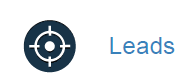 1. What is a Lead?
A Lead is a person, company or business opportunity that hasn't been qualified yet and added to your sales pipeline. Usually, leads come from personal networking, seminars, trade shows, purchased contact lists, ads, and other channels. 
When lead fits your requirements and becomes qualified, it will be converted to a client and a deal.
A list of your Leads can be found by clicking on the (icon) in the main menu at the top of the application.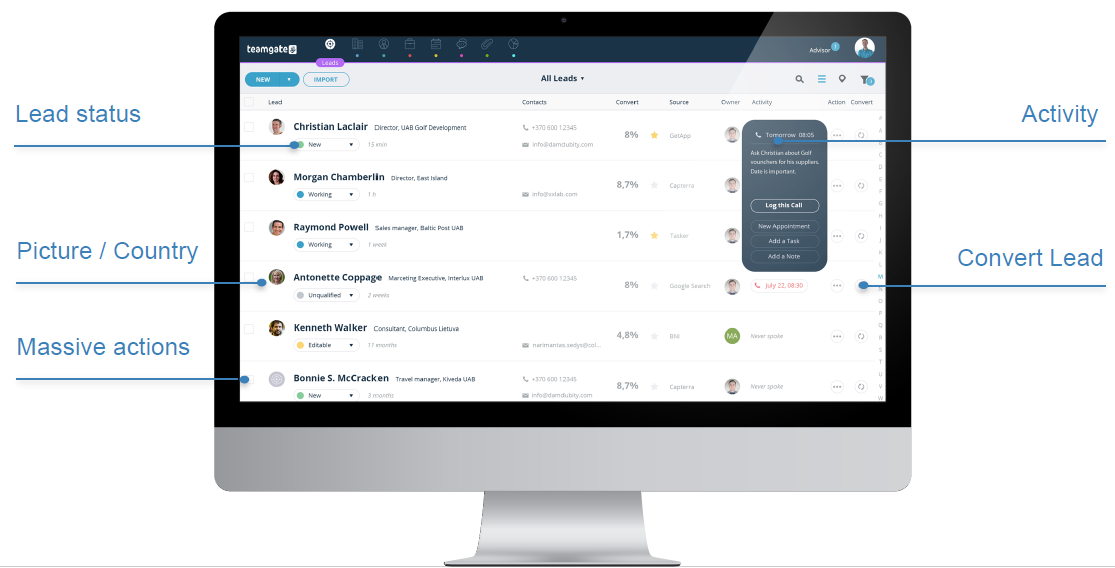 2. Importing Leads
You can import new leads directly into Leads section. To import leads, simply press "Import" button and follow instructions. Leads can be imported from CSV, XLSX or vCARD file.
Teamgate also supports importing from third-party applications like Google, LinkedIn or Mac contacts.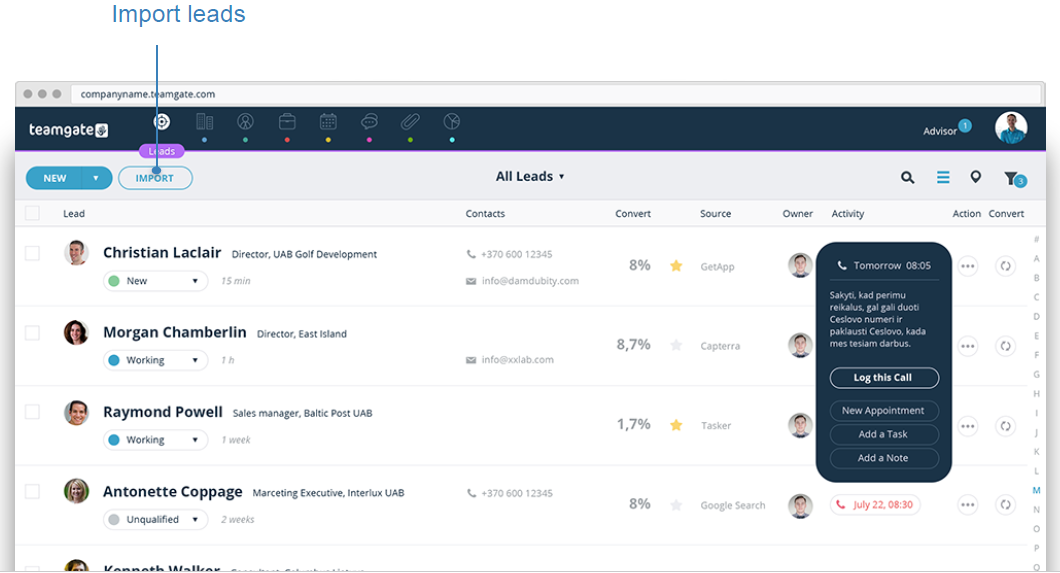 3. Adding a Lead
You can add a new Lead manually by pressing "New" in Leads section and filling in fields with required information. Keep in mind, the intelligent software will warn you immediately if data you entered already exists, so you are protected from duplicate records.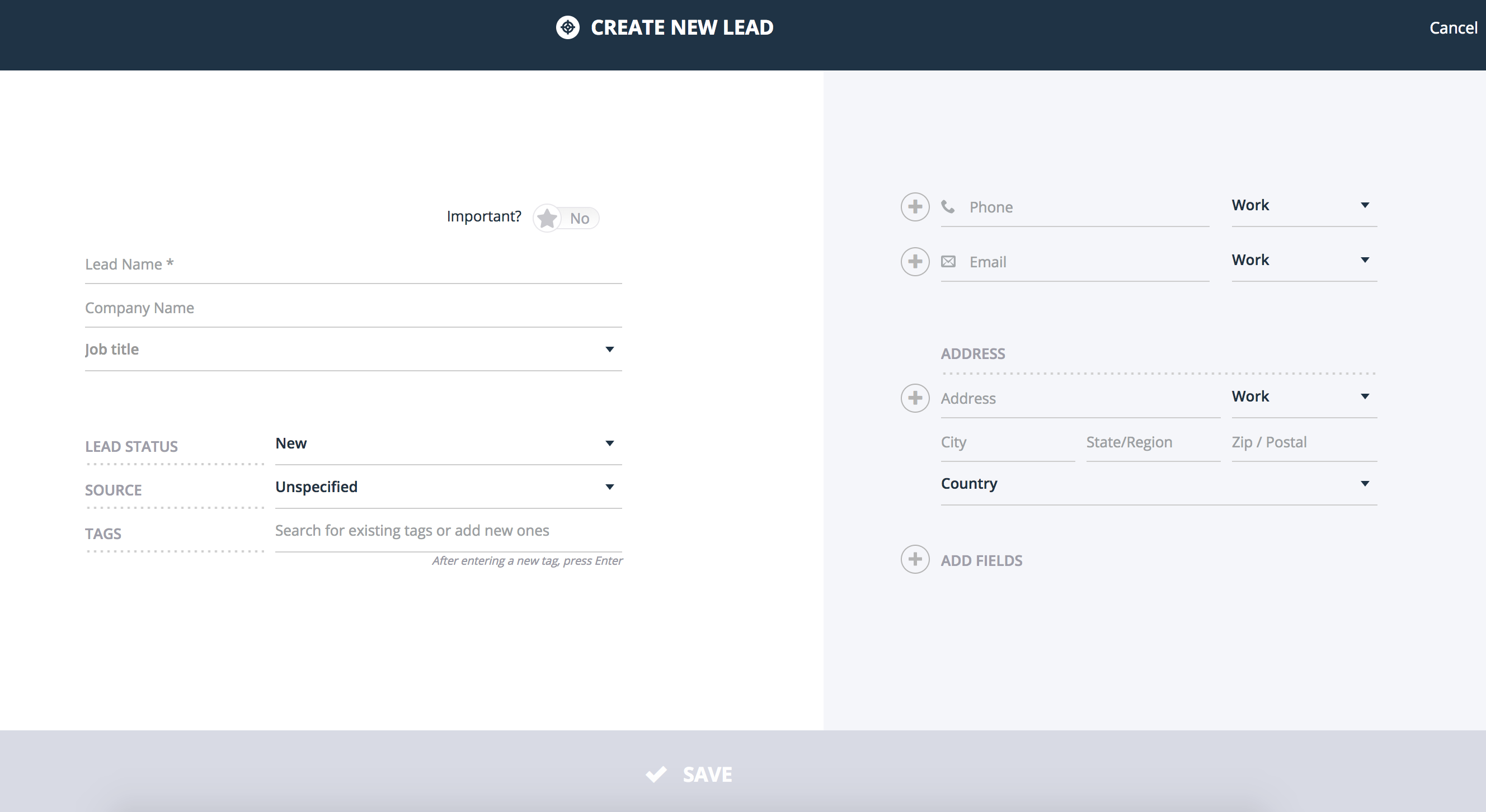 4. Converting Leads
When a Lead is qualified and ready you can convert it to a Deal with associated contact to it. Converted All Lead history will be transferred as well.
Converting a Lead you have several options and you can do it just a single click: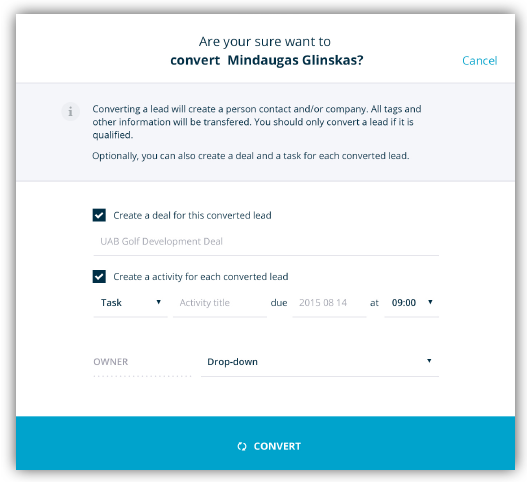 1. Convert the lead to a company and/or person, without any action. This option means you move transfer your Lead with its all information to a Contact. And there are no actions planned yet so you can start planning your activity later.
2. Convert the lead to a company and/or person with activities planned. When converting a lead you can select the checkbox to add an optional action: a task, call or another reminder due to date. The new task will appear in contact's card, list and in your calendar.
3. Convert a lead to a company and/or person and create new deal for this lead. This option will create a new deal for your converted lead. You can add a name, sales pipeline, and stage for this deal. The associated contact will be seen as the prospect on the list.
5. Other lovely details
Benefit for business who do export (flags)
Companies operating with clients from different countries will find this subtle feature quite helpful. There is no need to enter your Lead's card to figure out origin country, their flag is located next to the name of a Lead, so you can greet them in their native tongue!
Lead scoring is a methodology used to rank prospects against a scale that indicates the perceived value each lead represents to the organization. The resulting score is used to determine which leads should be qualified in order of priority.
The value of each lead may vary, but generally, it characterizes and determines the worthiness of a lead. This helps your sales team to focus on the right leads and close more deals.
Manage a Lead
Manage and customize your leads the way you manage your business. Select Status for your Lead: New or Unqualified or add any status you usually use for your leads nurturing. All unqualified Leads can be recycled and processed again. Add a Tag to your lead to remember where the Lead came from or note other specific information. Quick saving allows quickly save & add new Leads.
Why it's important to manage your Leads?
Leads qualification is the very first step towards the final sale. After receiving lead you enter it as a lead and start processing its' potential. After nurturing you decide to convert it into a contact. If the lead is not qualified you can unqualify it and the lead will disappear from your active leads list. Unqualified leads can be recycled and processed again at any time later.