Content:
1. What is a Lead?
A lead is a person, company or business opportunity that has not been confirmed and added to your Sales Pipeline yet. Usually, leads come from personal networking, seminars, trade shows, purchased contact lists, ads, and other channels. When lead fits your requirements and becomes qualified, it will be converted to a contact and to a deal.
2. Leads tab
A list of your leads can be found by clicking on the (icon) in the main menu at the top of the application. The leads list displays all of your leads, ordered by created date. You can adjust the sorting to display the list by Contact name or Company name: Settings > Leads > Main Settings > select: Default is Contact / Default is Company.

3. Which are file formats supported?
You can import new leads directly into Leads section. To import leads, simply press "Import" button and follow instructions. Leads can be imported from CSV, XLSX or vCARD file.
4. Can I import leads from other applications?
Teamgate also supports importing from third party applications like Google, LinkedIn, Mac or Outlook contacts.
5. How to import Leads list?
Database import consists of two parts:
1) Database preparation
2) Matching your database fields to the fields in Teamgate.
1) Database preparation
The database must meet our uploading requirements, in order to be displayed correctly when uploaded.
Import appropriate file could be in 2 different formats:
CSV (Comma Separated Values, 50 000 rows can be uploaded)

XLSX (Excel newer format, 5 000 cells can be uploaded)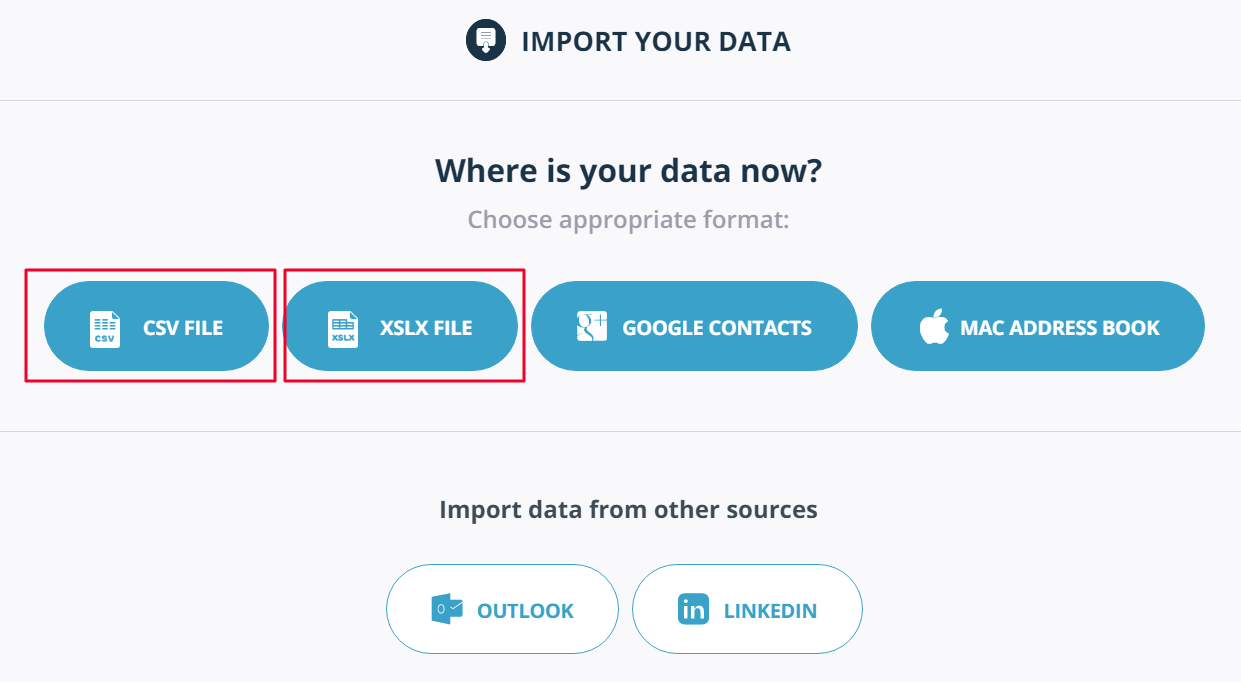 We recommend that you import a small subset of data as a sample so you can test out the import tool and see how your data will look in Teamgate.
Your file should be strictly neat. All data must be in the right cells. Distribute all data in appropriate columns: Name and surname in one name's column; a country in country's column; address - address column and etc.
NOTE 1: Please separate your address, city, ZIP code and country. People names and surnames have to be in one column.
NOTE 2: If you want to import only the countries or cities, please add the address column and leave it empty. Your country will be linked correctly.
NOTE 3: If you have more records, it is not necessary to delete them, simply press "X" when uploading to Teamgate.
NOTE 4: If you will not assign an owner/user, responsible for particular Company/Contact - then the owner will be the person who imported the file.
Required fields are Lead name/company title.
Teamgate supports following standard data columns:
Leads name

Company

Job title

Industry

Address

City

ZIP/Postal

State

Country

Email (Work, personal, service, optional)

Telephone No. (Work, mobile, fax, home, optional)

Reference (Website, Twitter, Blog, Facebook, LinkedIn, additional URLs, Skype)

Custom fields (Create this field before or during the import)

Tags (Create this field before import!)
Download sample import file: CSV or XLSX.

7. How can I import data which is specific for my own use?
If you want to import specific information which is not included in the sample import file- create custom fields or tags.
8. How custom fields appear in People card after I convert a Lead?
When sales reps convert qualified leads, the information from the standard lead fields appears in standard fields for contact, company, and deals records. If you set up custom lead fields, you specify how that custom information converts to custom fields in companies, contacts, and deals. To achieve this click "Custom fields mapping" button and for each custom lead field, choose a custom company, contact, or deal field into which you want the information inserted when you convert a lead. Click save.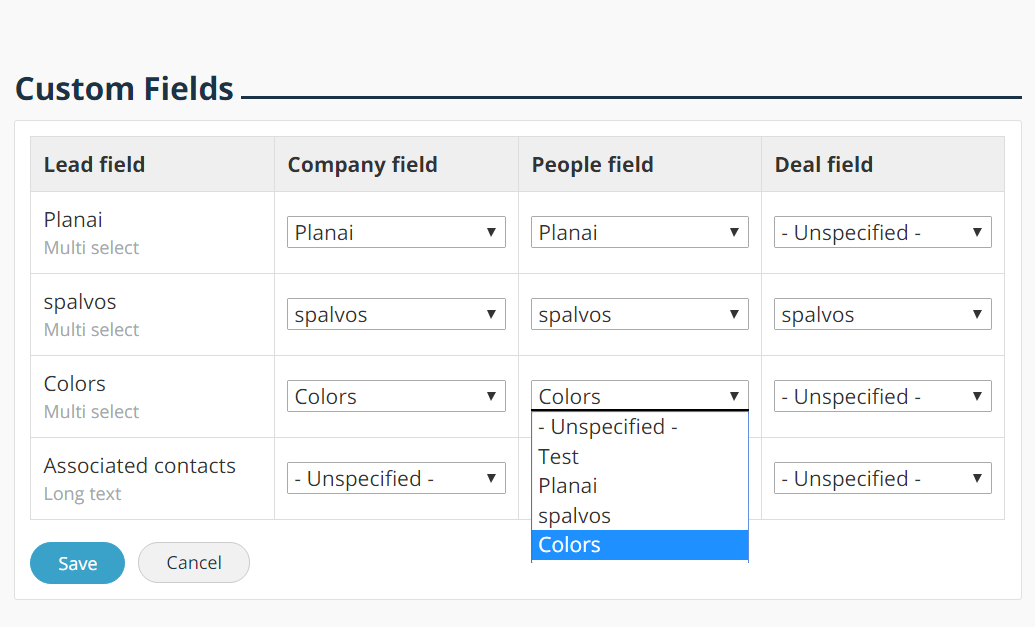 2) How to Import your file?
When your import file is ready:
2.1. Navigate to Settings > Data migration > Import > Leads > select the type of file you want to import > browse the file from your computer > Continue
Other option:
2.2. Open Leads module > click Import > select the type of file you want to import > browse the file from your computer > Continue

2.3. Match your file's fields to the fields in Teamgate. Link all system fields to your uploaded file fields list. Just chose from the drop-down. If you don't want to import any of your files columns, just set it not marked (remove checking).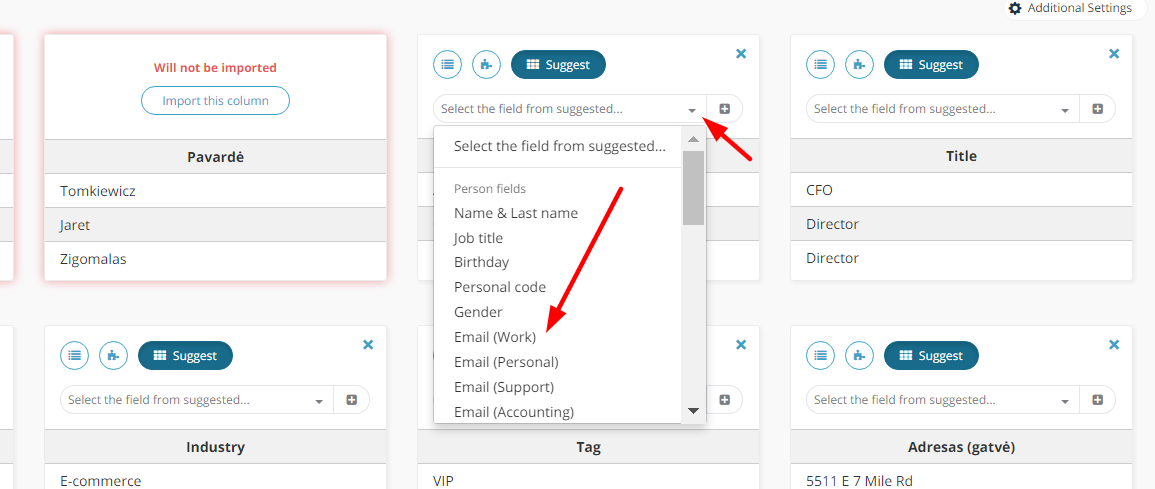 2.4. How to create a custom field during the file import?
You can create additional fields directly from the import preview page, using the dedicated button: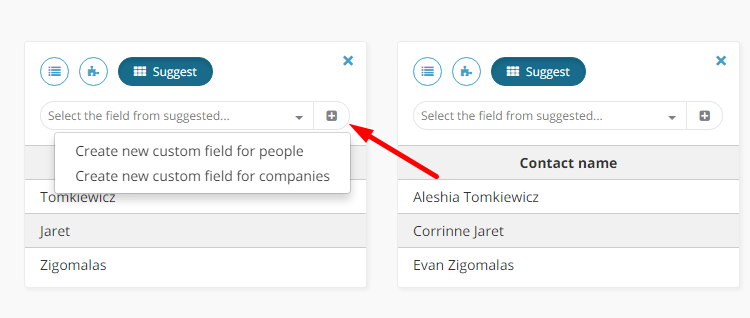 2.5. Select the type of file and enter the values.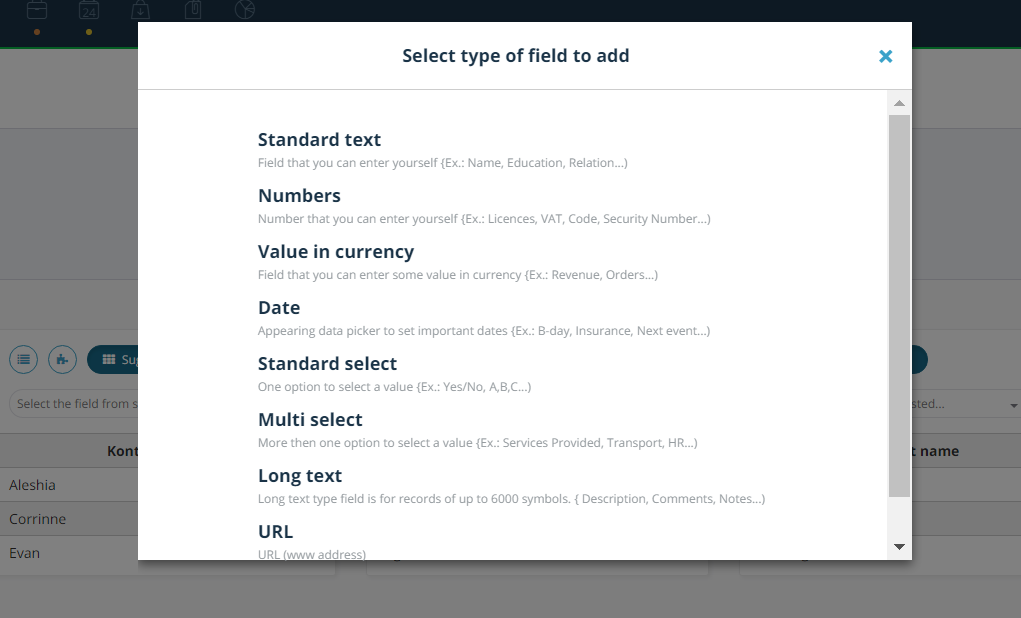 Teamgate will automatically match all the custom field values If the field's name will be exactly the same. Otherwise, if there is left any unmatched values you can perform this action manually: drag the field from the left to the field on the right and drop it there.
2.6. Show me an example how the import works!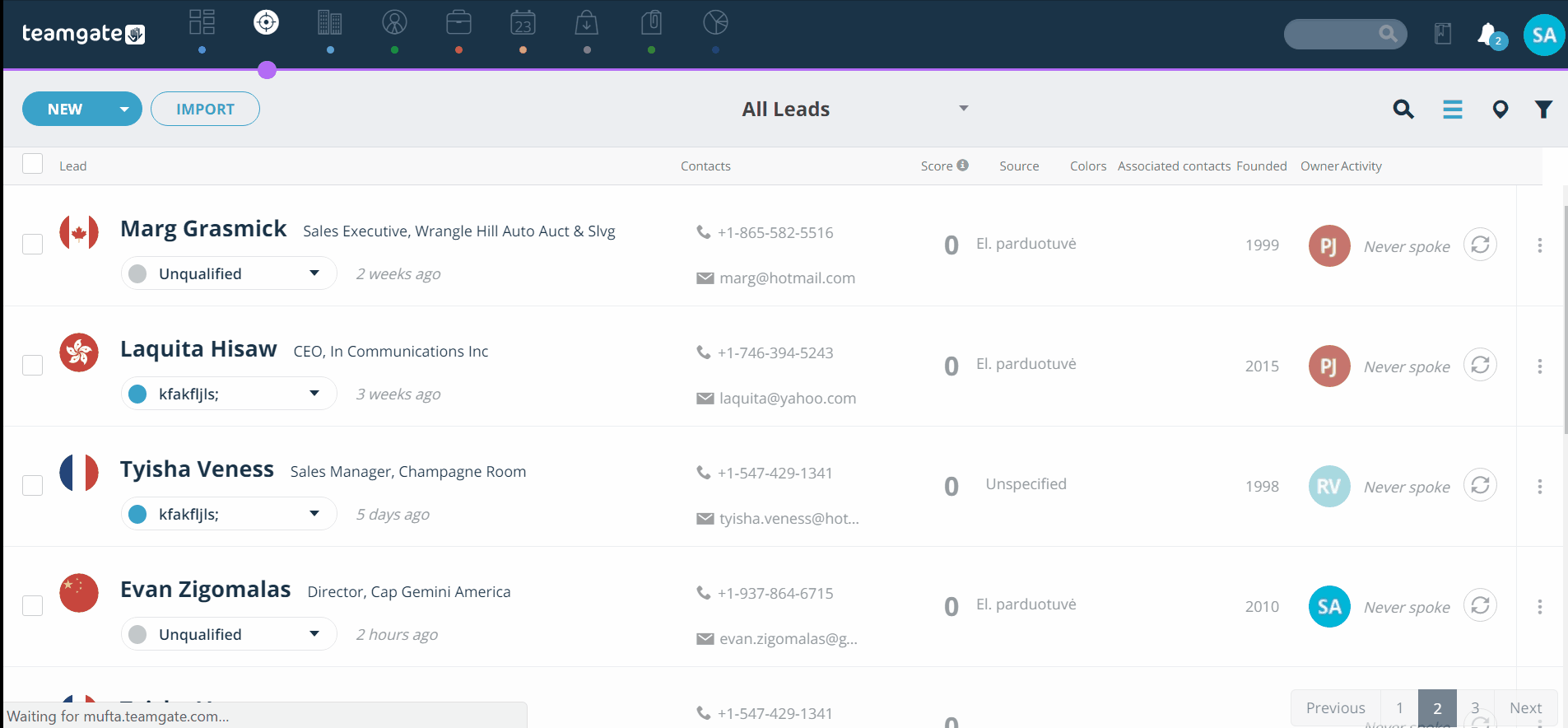 2.7. How to undo the import?
After import- check if all data is in the perfect order. If you notice any discrepancy during the 48 hour period you can cancel import. Settings > Data migration > Import history > Cancel import.