Custom fields allow you to create and save relevant information, which is specific to your business needs. The custom fields might be added to leads, people, companies, deals and products.
You can create various type custom fields: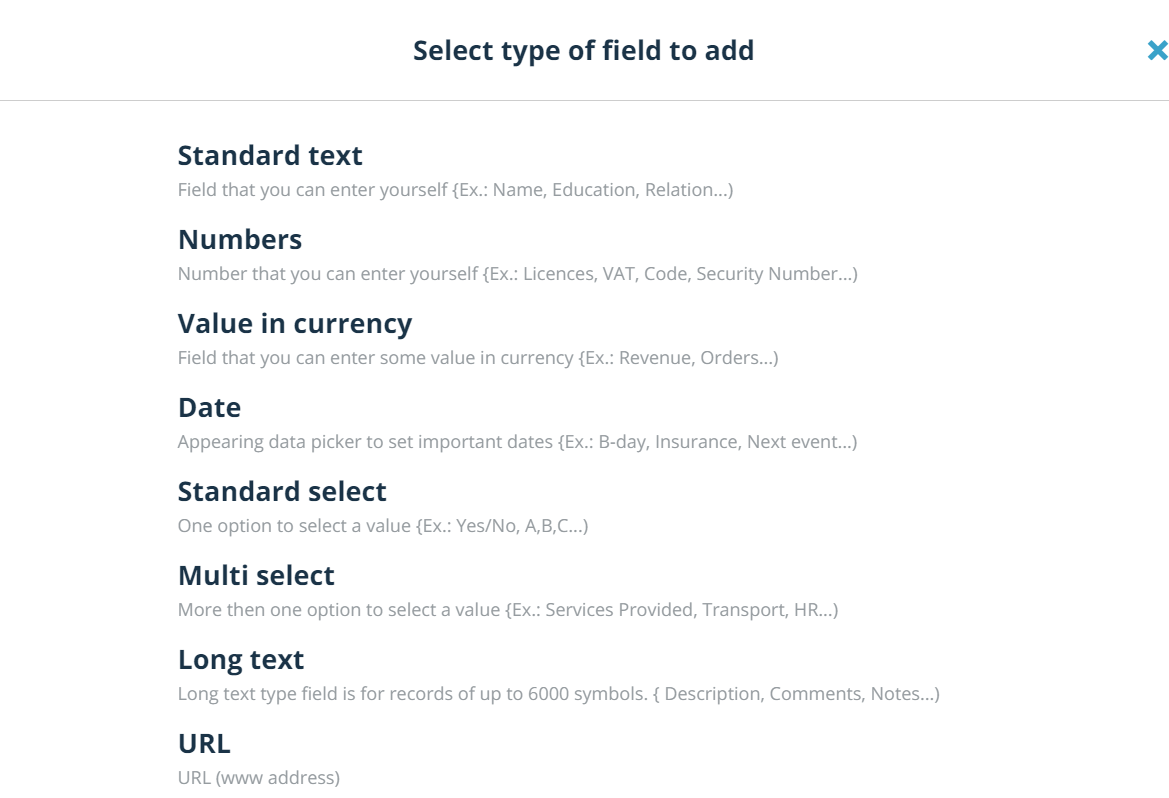 How to create a custom field?
1. Navigate to Settings > Customization > Custom Fields 
2. Select the section (Leads, People, Company, Deals, Products) 
3. Use the "Create New Field" button 
3. Select the type of your custom field 
4. Set the title for your custom field and add the values (single-option and multi-option fields only) 
5. Don't forget to SAVE. 
Info: Don't forget, once created, fields can be easily copied from/to People, Companies or Deals. Just drag them to the next section and they will be copied with all the values.

After clicking on Save Changes the system will automatically refresh and you will now be able to go and find the newly created fields in the record edition window.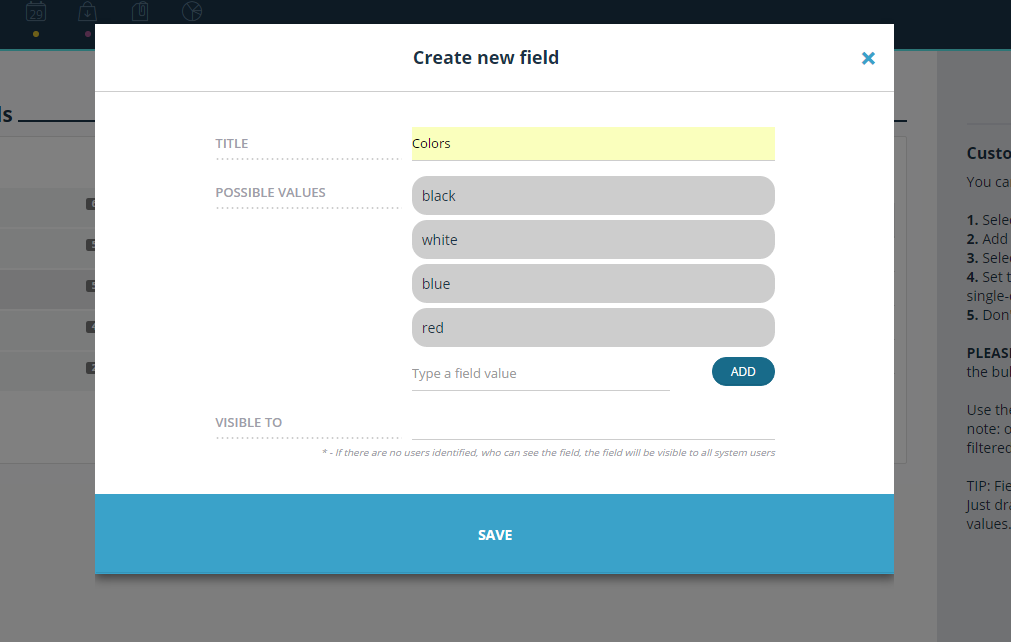 How to assign the custom field to lead, contact, company, deal or product?
Click on the title of the selected lead, contact, company etc.

When you get to the card, please click on the "Edit" button.

Click "Add Field" button.

Select custom field and it's value.

Your data will be updated as soon as you save the corrections.
Where will custom field information be visible?
1. Custom fields will appear in the Leads, People, Company, Deals and Product cards on the left side. 
Enable this option by clicking the bubble in the "Show in the list section". Green- enabled; red- disabled. It is allowed to add up to 5 custom fields to the list.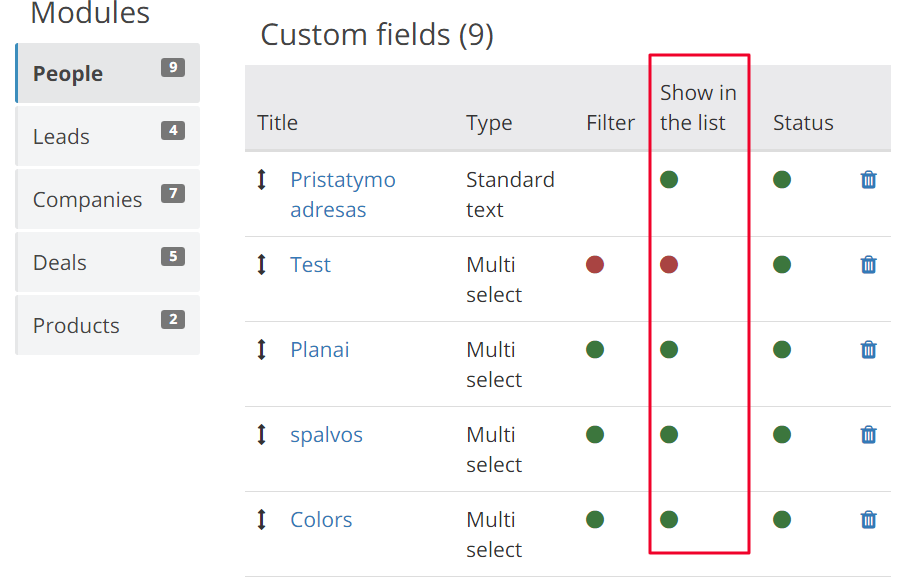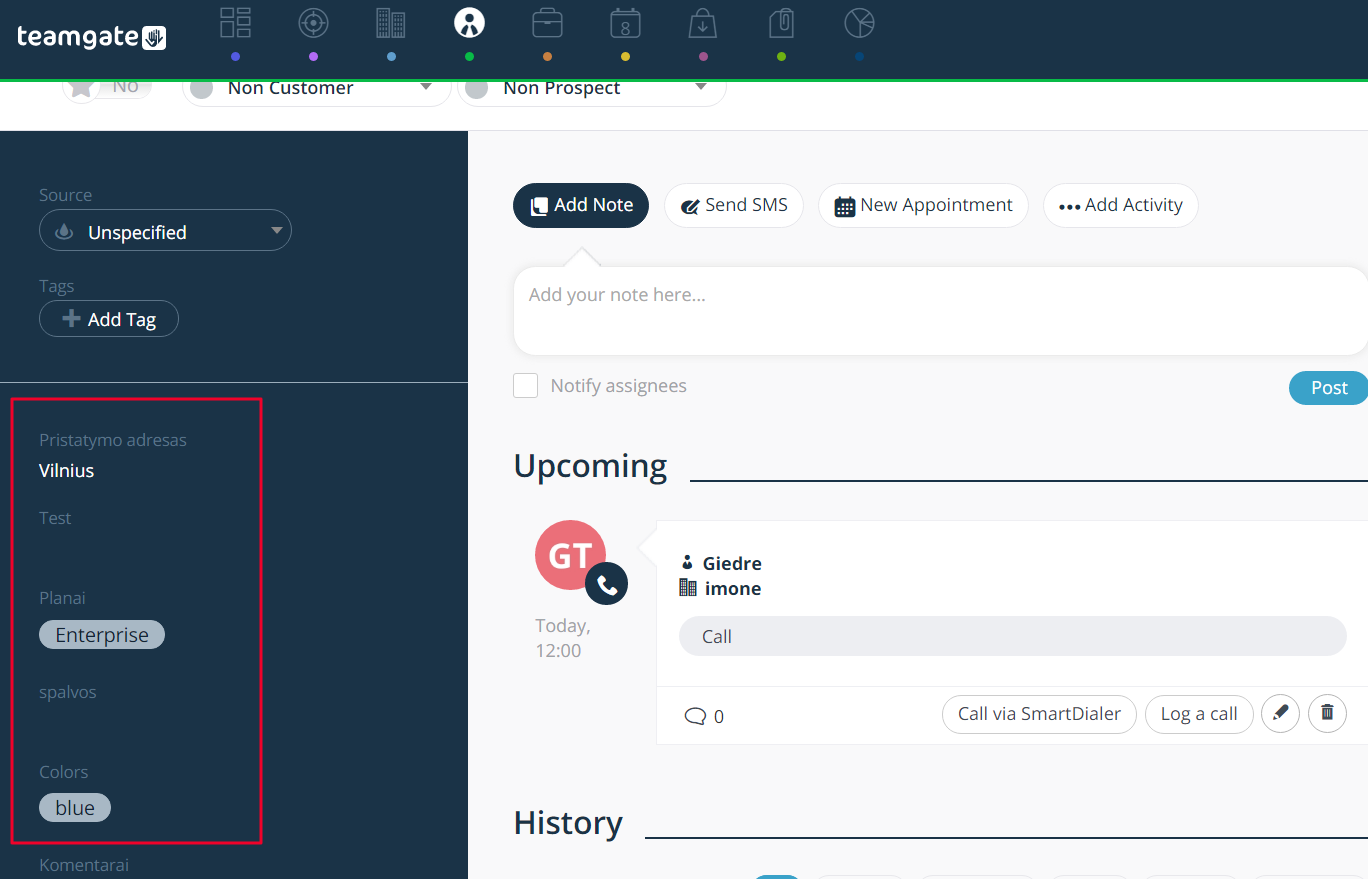 2. Custom fields can appear in the Leads, People, Companies modules. 

Can I filter by the custom fields?
Only two types of fields can be filtered: "Standard text" and "Multi-select".
Enable filtering option by clicking on the bubble at the section "Filter". Green- enabled; red- disabled.
Note: it is allowed to add up to 3 custom fields to the filter.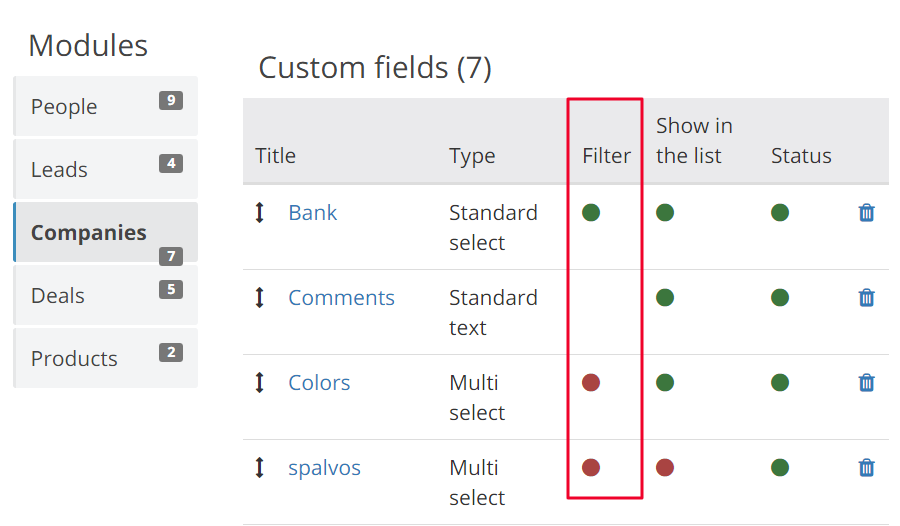 Note: You can switch ON or OFF the custom fields for People and Company section. Just click on the bubble at the section STATUS to set it to ON / OFF.

How to edit existing custom field? 
1. Navigate to Settings > Customization > Custom fields > select the custom field you want to edit.
2. When editing an existing field, be careful! To edit any of the custom fields that you have created for your Teamgate you will need to go to the Edit Existing Fields option inside of Custom Fields.  With Textboxes you can update the labels and with Selection or Multi-selection you add more selections, however, be careful.
How custom fields appear in People card after I convert a Lead?
Custom field mapping.
When sales reps convert qualified leads, the information from the standard lead fields appears in standard fields for contact, company, and deals records. If you set up custom lead fields, you specify how that custom information converts to custom fields in companies, contacts, and deals. To achieve this click "Custom fields mapping" button and for each custom lead field, choose a custom company, contact, or deal field into which you want the information inserted when you convert a lead. Click save.