Teamgate CRM allows you to easily import clients database from other sources such as XLSX, CSV, vCARD files or another third party applications including LinkedIn, Outlook, Mac address book, Google contacts. 
Database import consists of two parts:
2) Matching your database fields to the fields in Teamgate.
1) Import file preparation
The database must meet our uploading requirements, in order to be displayed correctly when uploaded. 
Import appropriate file could be in 2 different formats:
CSV (Comma Separated Values, 50 000 rows can be uploaded)
XLSX (Excel newer format, 150000: number of columns) 
Example: Your XLSX file has 25 columns. In order to know how many rows will be imported using the formula: 150000: 25 = 6000.You can upload 6000 rows to Teamgate.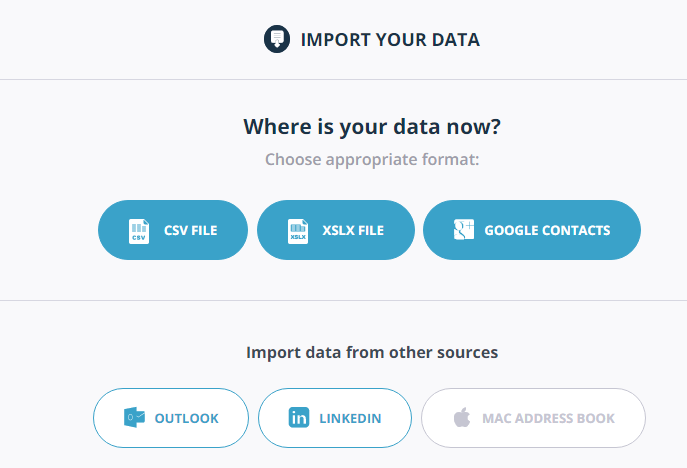 It should be noted that other formats are not available. The simplest and most popular option is the import of XLSX file because the majority of users have MS Office programs. If your file is exported from some kind of system, this will likely be a standard CSV format.
We recommend that you import a small subset of data as a sample so you can test out the import tool and see how your data will look in Teamgate.
Which fields can be imported?
Your file should be strictly neat. All data must be in the right cells. Distribute all data in appropriate columns: Name and surname in one name's column; a country in country's column; address - address column and etc.
Required fields are Company or Contact name. 
Teamgate supports following standard data columns:
Person's Name (Name and surname in one cell)

Company name

Date of birth

Company code

Owner (Responsible for the client) 

Contact person's job title

Personal code

VAT code

Email (Work, personal, service, optional)

Telephone No. (Work, mobile, fax, home, optional)

Reference (Website, Twitter, Blog, Facebook, LinkedIn, additional URLs, Skype)

Address (address, city, postal code, country)

Groups (type, source, activity status)

Description

Turnover

Number of employees

Sex

State

Tags
NOTE 1: Please separate your address, city, ZIP code and country. People names and surnames have to be in one column.
NOTE 2: If you want to import only the countries or cities, please add the address column and leave it empty. Your country will be linked correctly.
NOTE 3: If you have more records, it is not necessary to delete them, simply press "X" when uploading to Teamgate.
NOTE 4: If you will not assign an owner/user, responsible for particular Company/Contact - then the owner will be the person who imported the file. 
 Show me proper file example!

How can I add details to company or contacts?
You can choose the way you want to assign details (phone, email, etc.): to the company or to individual contacts (people) within the company. If the details are different or need to be assigned to contact and the company, all you need is to have two columns in your import file (for example, company phone number and contact phone number). Just match your file's fields to the fields in Teamgate.

My contacts have more than one email or phone number
Additional email addresses and alternate phone numbers should be in separate columns in your source data file. During import, the preview page will allow you to map these imported columns to fields within the application.
The Company has several Contacts within the company
Copy company's name into as many cells as you have contacts related to that particular company. You do not need to repeat company's details. 

Can I filter my contacts by the city after my file is imported? The city is in the same field with address, country, and ZIP code.
Unfortunately, you cannot. City, ZIP code, country, and address should be in separate fields. Importing these elements individually into separate fields is the only way to filter all the data correctly. If the data is imported correctly into separated fields, you will then be able to filter by city.
How to distinguish the loaded contacts from existing in Teamgate?
We have some recommendations for you:
First, create a new tag in Teamgate: Settings > Customizations > Tags. Select "Contacts tags" and "New tag". You can set any title you want.

Add new columns "Tags" in your import file.

Every company or contact should have a tag with the title from step 1.

Match your file's tag column to the field "Tag" in Teamgate.

If data is imported correctly

with tags,

you will then be able to filter by tags.
How can I import data which is specific for my own use?
TAGS, TYPES, INDUSTRIES, SOURCES
Before getting started with an import, go to the Settings and create custom fields,  types, industries, and tags that you will want to map during your import. If the system default fields do not include values that are in your file, these custom fields fill in the blanks for you.
These fields has to be created before importing your file to the system, because there is no option to create during the process of importation. 
Press icon with your credentials > Settings > Customization > Select: Tags; Sources; Industries; Custom fields; Statuses.

EXAMPLE: TAGS
Settings > Customization > Tags > Add new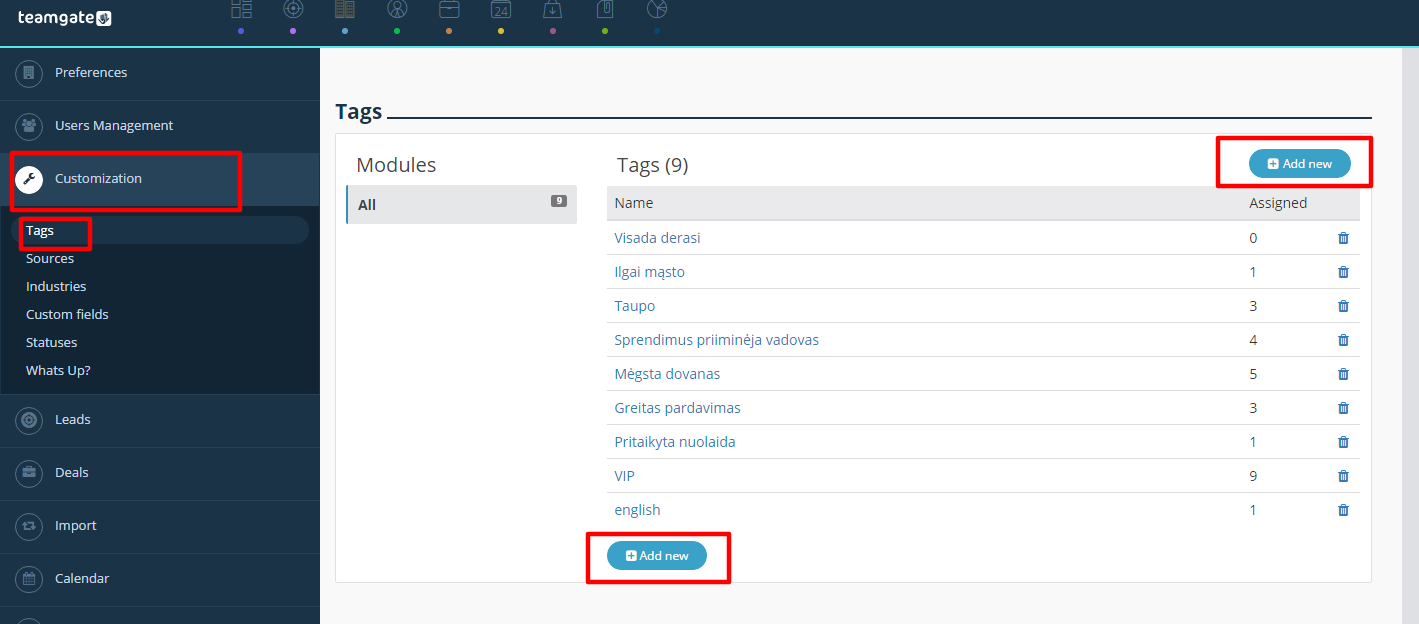 After creating tags in Teamgate, during the file import select where you want tags to appear to: Personal fields or Company fields.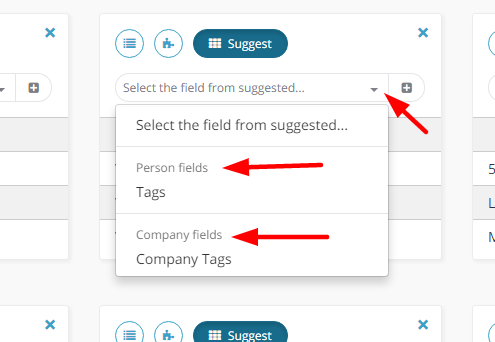 Lastly, match the fields from your file to the fields in Teamgate. 
NOTE: Click "..." on the bottom right corner > press "assign automatically". If the field's name will be exactly the same system will match them automatically. Otherwise you can perform this action manually: drag the field from the left to the matching field on the right and drop it there.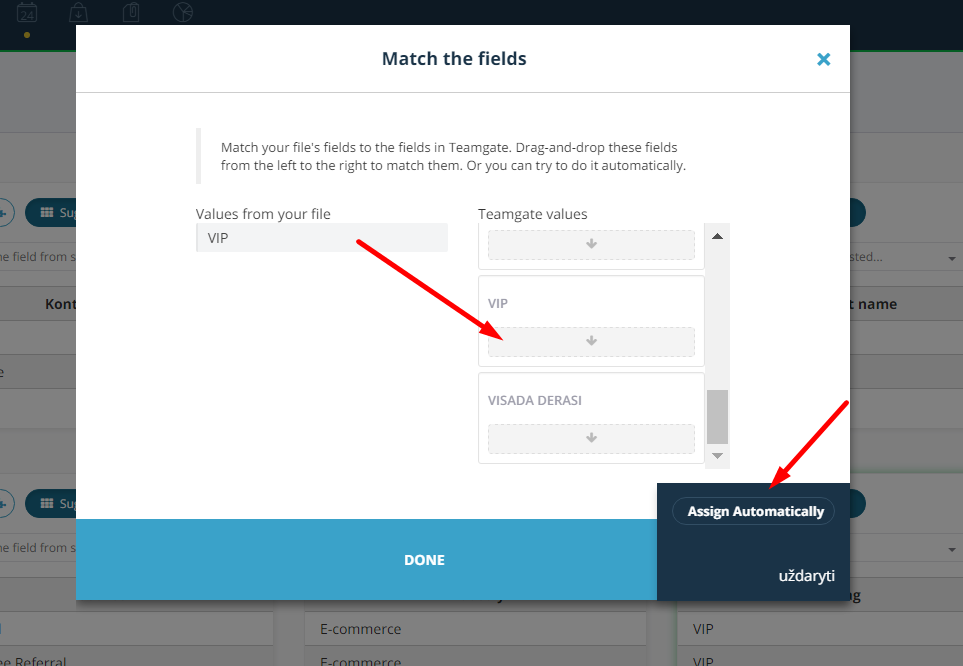 CUSTOM FIELDS
1. Suppose you need a field where you would mark customers who have acquired tickets to a seminar. Go to Settings> Customization> Custom fields and create a field "Seminar," which will store this data after importing. Custom fields can be created for Companies, People, or Deals, so please select the correct section
2. You can create additional fields directly from the import preview page, using the dedicated button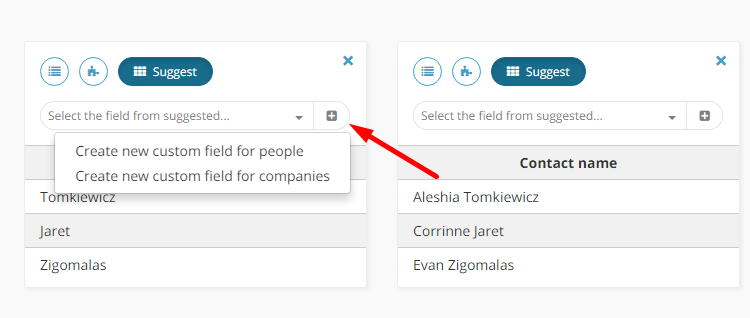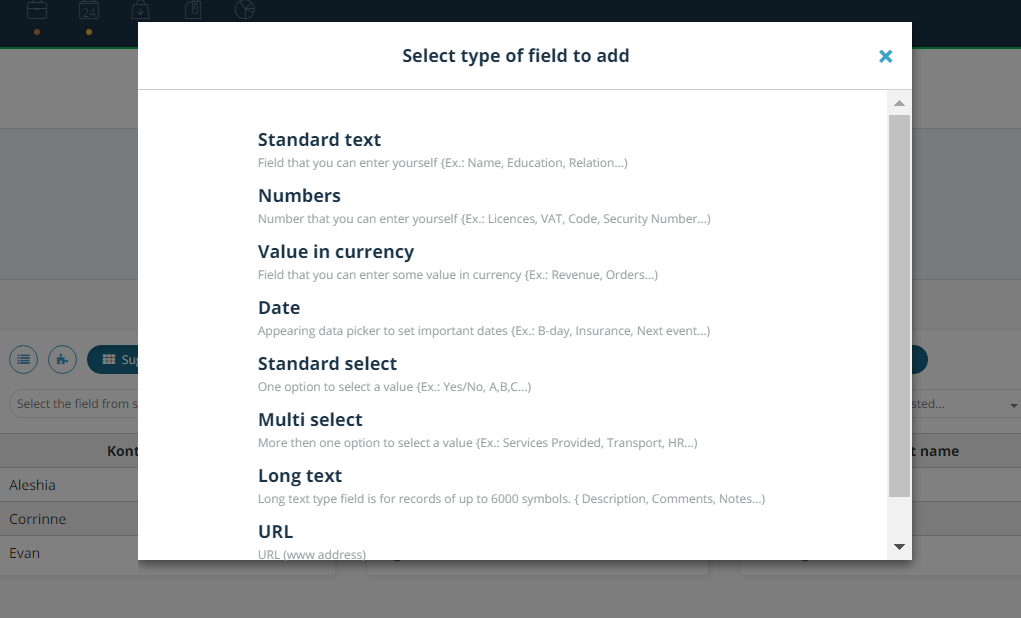 For more information see the article: How to create and edit custom fields?
2) Matching your database fields to the fields in Teamgate.
 How to match the values?
These are the basic steps you'll be taking:
2. At Setup > Import, select your file (browse) and click "Import".
3. Match your file's fields to the fields in Teamgate.
4. Finish importing.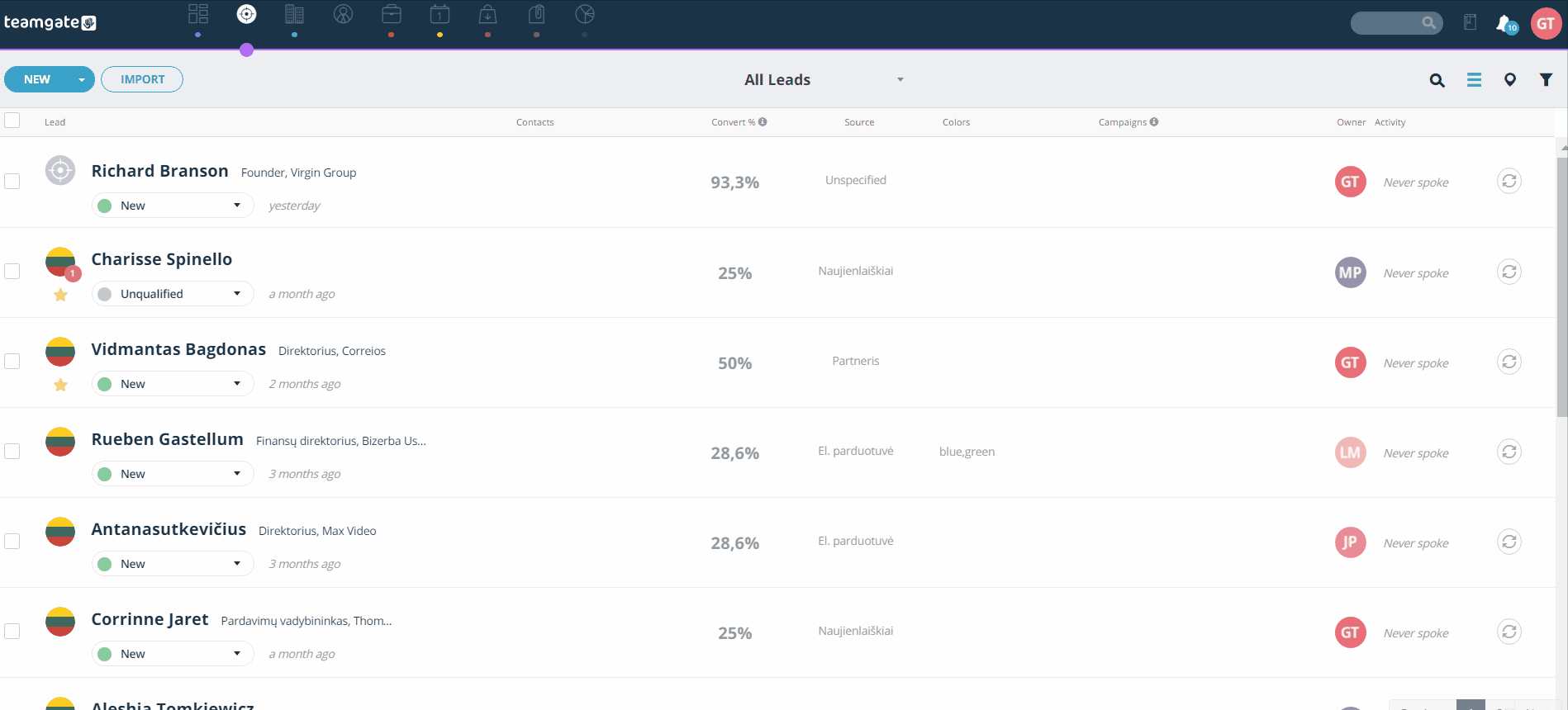 Link all system fields to your uploaded file fields list. Just chose from the drop-down. If you don't want to import any of your files columns, just set it not marked (remove checking).

After all these steps are done, press Import button.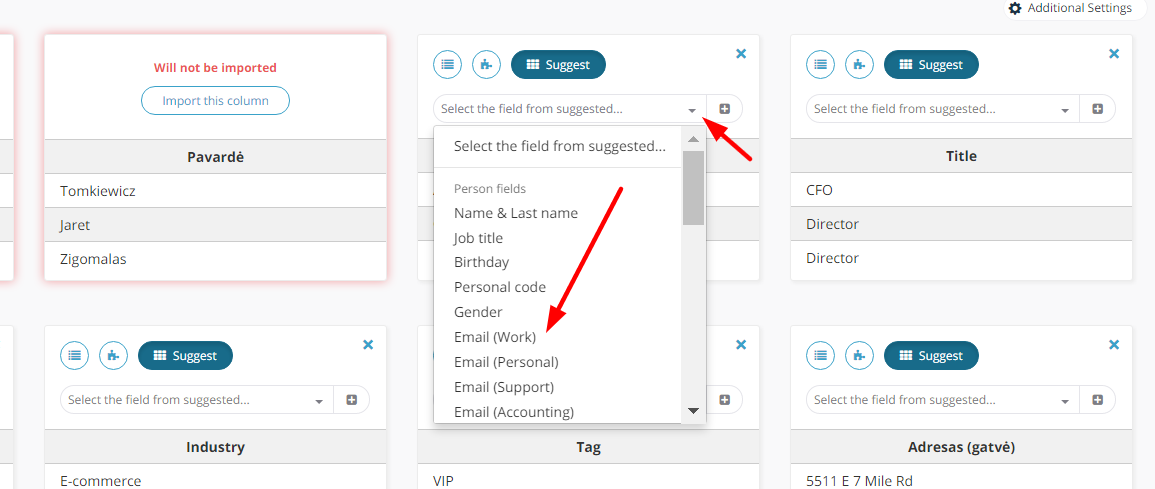 How to undo the import?
After import- check if all data is in the perfect order. If you notice any discrepancy during the 48 hour period you can cancel import. Settings > Data migration > Import history > Cancel import.
Import history shows 30 last imports.