Twilio is a modern cloud-based phone solution which is integrated into Teamgate. Users can quickly and easily make calls via the browser to all their Contacts; directly from their CRM account. To enable SmartDialer you need to have a Twilio account. 
Note: Twilio integration is available for Enterprise Plan users only. 
 Don't have Teamgate account yet? Try Teamgate today! Sign up for Trial version or upgrade your plan.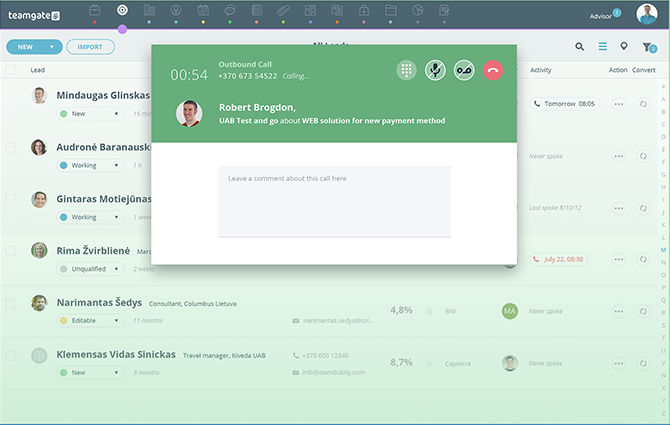 1. How to Set-up your Twilio integration?
Note: Twilio does not work using the Safari browser as Twilio no longer supports Flash technology.
1. Navigate to Settings > SmartDialer > Twilio and click Claim phone number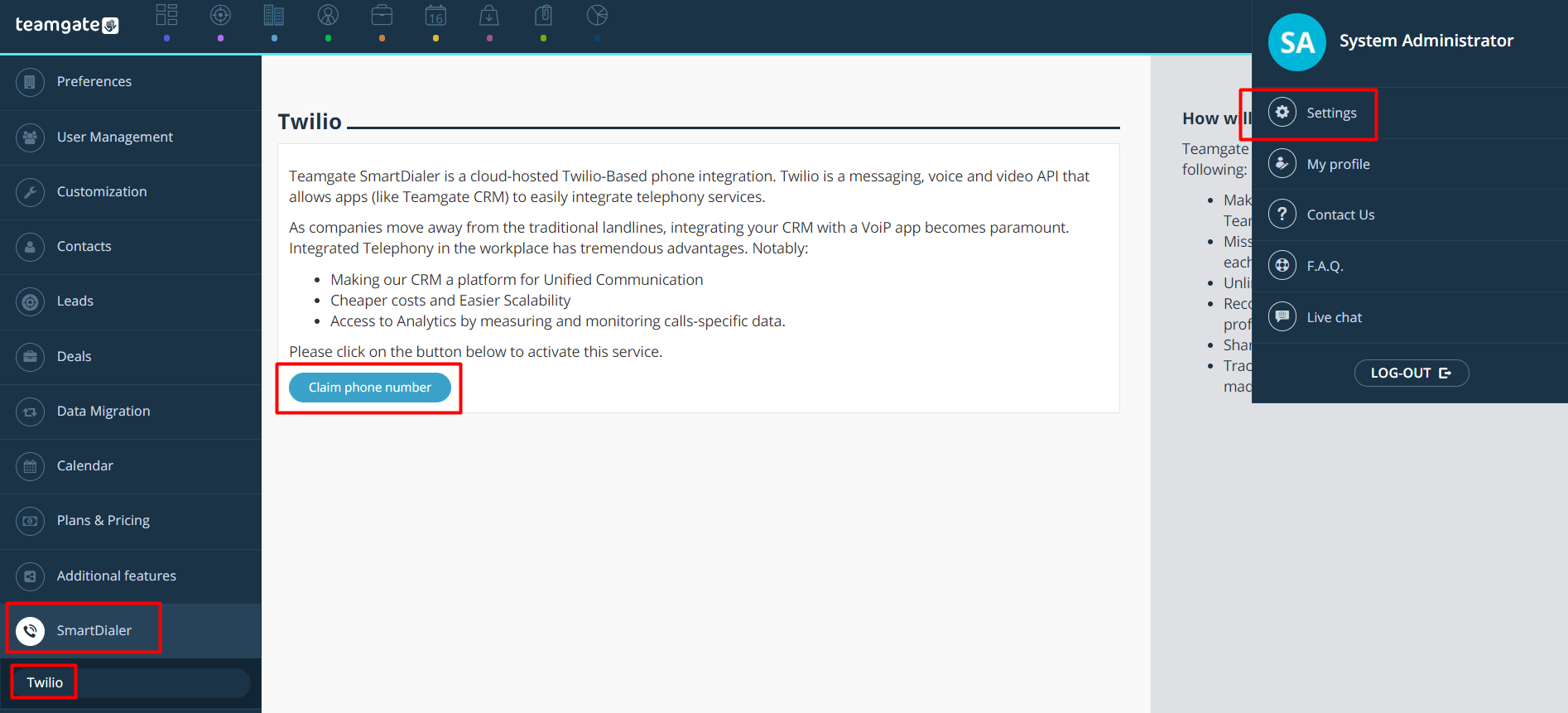 2. Choose the number you prefer from the list offered to you by Teamgate. This number will be used when you call your Leads or Contacts. Please remember that you won't be able to change the number once chosen.
3. Enter your personal or work phone number and click 'Save'. You will receive an SMS message with a registration code. Please enter the received code into Teamgate.
4. Choose the country code which will be used when you dial a number without a country code.
5. Choose if you want Twilio to record all your calls (dialed and/or received). Don't forget to select from the list for how long you would like Teamgate to save and store all your records.
6. Check if you wish to receive inbound calls from unknown numbers. By selecting this option a new Lead will be created after every inbound call. 
7. Select the user who will receive unknown inbound calls.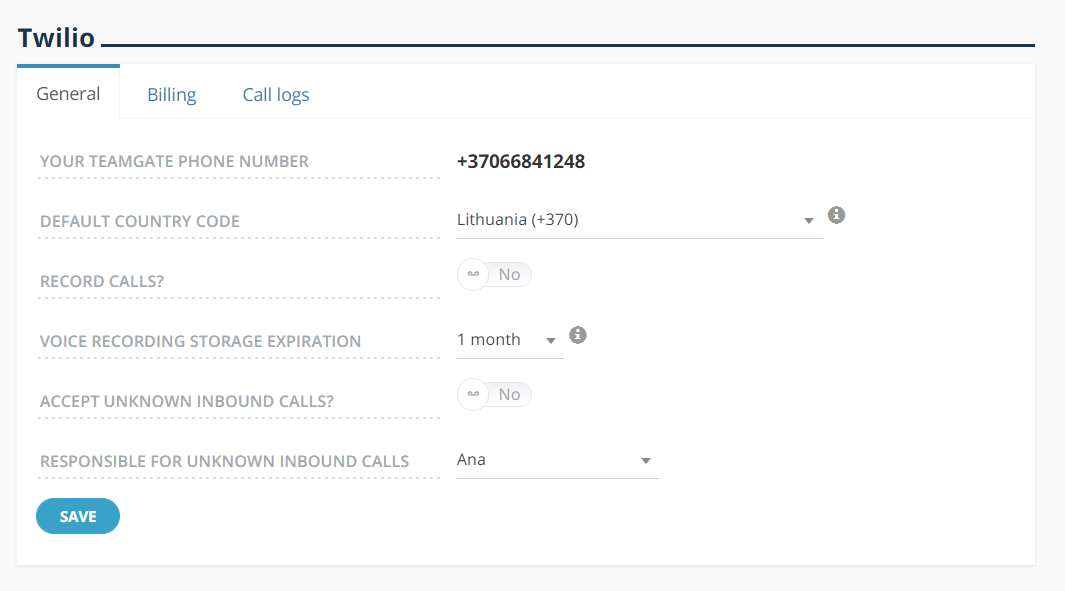 Important: Teamgate SmartDialer is an integrated service which has additional costs. In order to make calls, you will need to add your credit card details as described in paragraph 3. 
 After setup, we recommend running the Network test.
2. How to use Twilio integration?
1. You can now make and answer your calls in a more comfortable way; all that is needed is a personal computer, internet browser, and a microphone. This integration is also a great alternative to using a mobile phone, and as a result your business will become more productive by avoiding the whole telephone dialing process.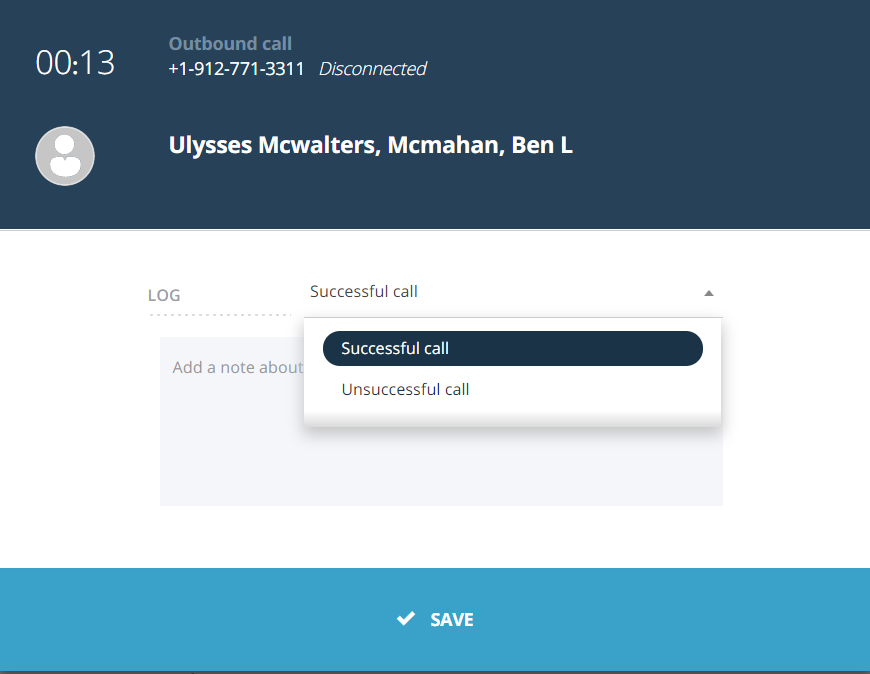 2. When using SmartDialer you'll never miss or forget about your customer's call. And if for some reason you do, your missed calls will be listed in Teamgate. You can then quickly and easily make a return or make a call to your customer and make a note of any details in the customer's contact's card.
3. Sometimes audio records of calls can be more informative than comments. With SmartDialer you'll be able to leave your comments and save your call records. We have no time limits for storing your call records, so, you can easily inspect these records from any device where you use Teamgate.
4. You can analyze your call results and store the call logs in your Teamgate account. You can also Manage your information: how many calls your sales team have made, how their efforts are reaching their goals, and measure the effectiveness of their calls on your overall sales results.
3. How to forward calls to a cell phone?
Calls cannot be forwarded to your cell phone until you are logged out (Settings > log-out) from Teamgate CRM; along with your personal phone number - which must be entered to the Teamgate CRM (My profile > Profile > Phone). Please note; you will receive the incoming call from the number that you selected as your Twilio phone number.
4. Where to find Twilio Billing Information?
On the billing section you may manually recharge your credit balance, or, you may arrange for us to automatically recharge your balance when it falls below a chosen threshold.

1. To charge your SmartDialer account select 'Add Credits'. When choosing 'Add Credits' please enter your credit card details and then select 'Continue'.
2. In the column 'Available funds' you will see your current balance of Twilio credit. 
3. In the column, 'Recharge Limit', you can set your account to recharge your balance automatically when it falls beneath the selected threshold. Once your recharge trigger is enabled when your account falls below that trigger amount it will automatically charge your card to bring your balance up to the amount which you have stipulated. The minimum value is $5.
4. In the column 'Recharge Amount' you can enter the automatic top-up amount which will be charged to your credit card once it reaches that limit.
5. Remember to save your choices.
5. Twilio pricing.
Please check the pricing list at Twilio and select the required country to see your specific rates. 
Please note: if you have selected to store your call records you will also need to check the pricing for this service.

The amount of call records you need to save and store, along with your payment for SmartDialer, will determine you monthly cost.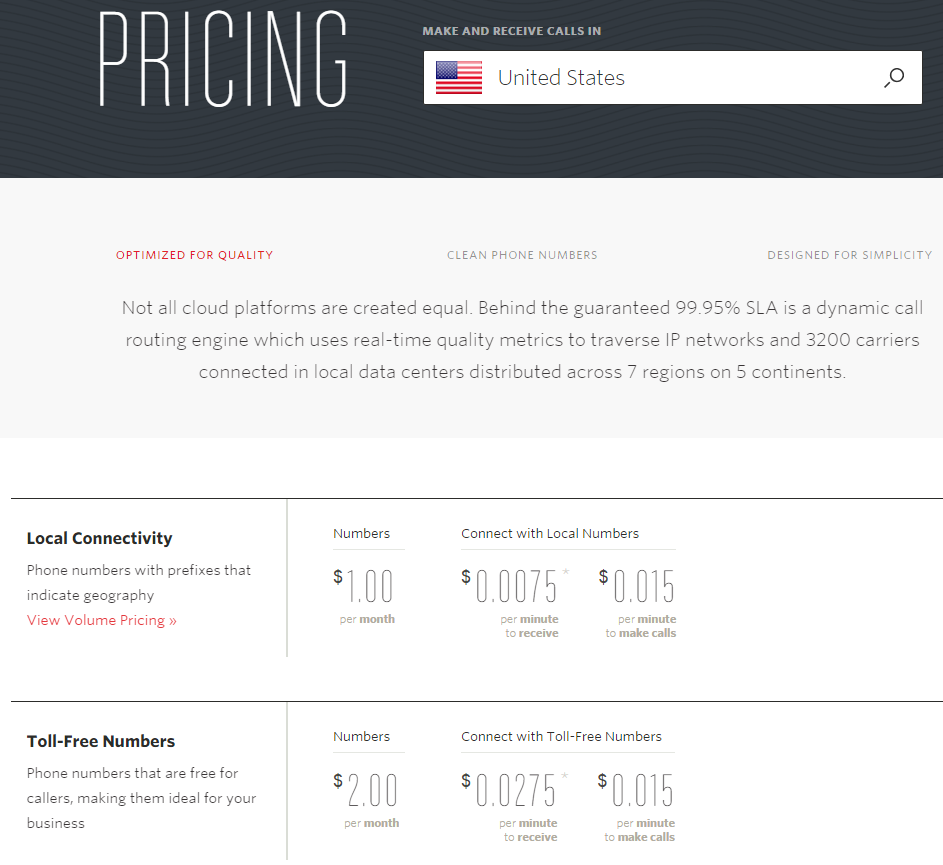 ---
6. Where to find Call Logs?
If you are looking for Teamgate SmartDialer call logs, you're in the right place! Here you'll find the details of all the calls made:
1. Call dates.
2. 'From' and 'To' phone numbers.
3. Direction of calls (incoming or outgoing).
4. Call duration.
5. Each recorded call's audio file storage price.
6. Price of each call made.
7. Total amount of funds (credit) used and available.