1. What is a lead?
A Lead is a person, company, or business opportunity that has not been confirmed and added to your Sales Pipeline yet. Usually, leads come from personal networking, seminars, trade shows, purchased contact lists, ads, and other channels. The main goal of the Leads section in Teamgate is to check if the information provided is real (phone number, email address, etc.) and to clarify if the person shows an interest in what you are selling. In simple terms, it is a list of contacts for cold calling or emailing.
When a Lead is qualified and ready- you can convert it to a Deal with associated contact to it.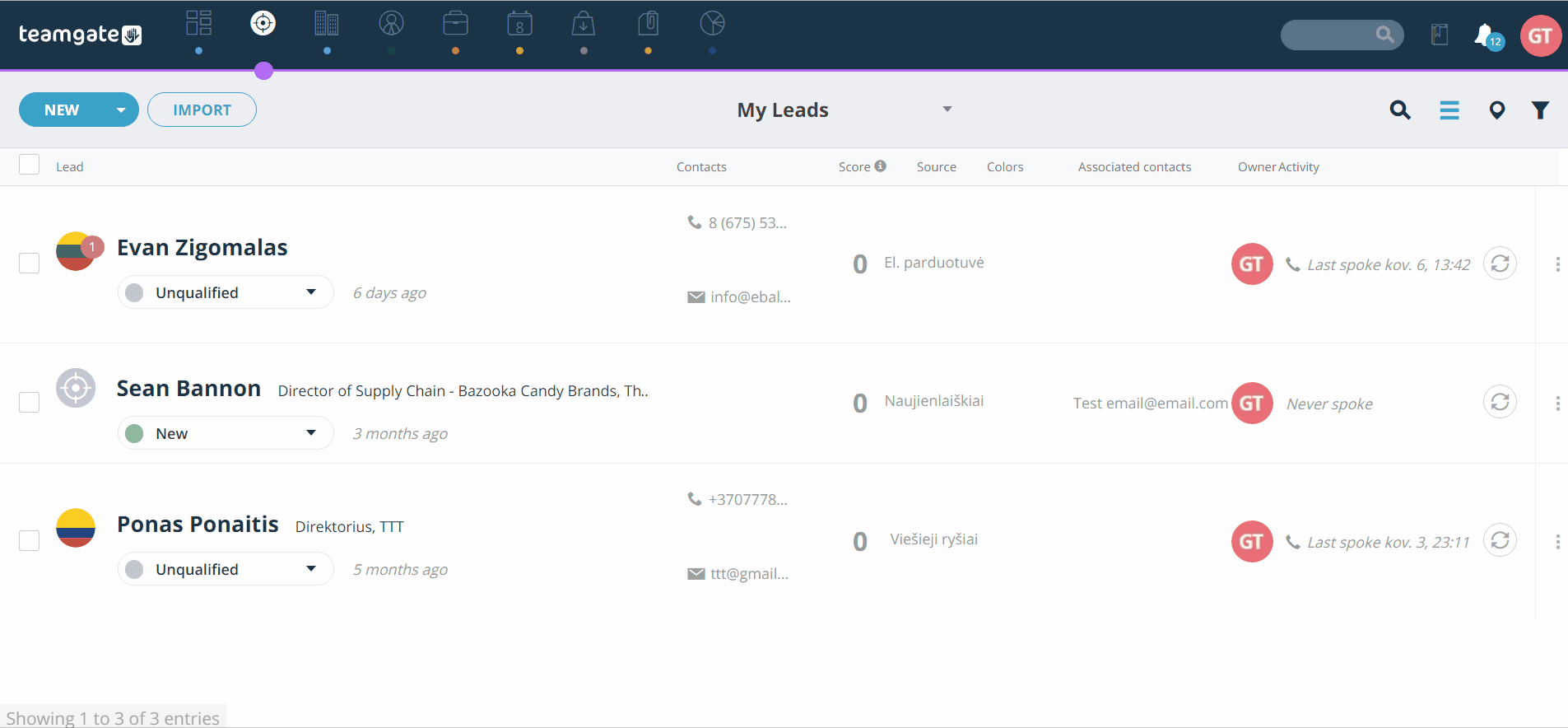 2. Leads tab
The Leads list displays all of your Leads, ordered by created date. You can adjust the sorting to display the list by Contact name or Company name: Settings > Leads > Main Settings > select from Default is Contact / Default is Company.

3. How to Add a new Lead?
There are 2 options in Teamgate for adding Leads:
4. Import your Leads
You can import new leads directly into the Leads section. To import leads, simply press the "Import" button and follow the instructions. Leads can be imported from CSV or XLSX files. Teamgate also supports importing from third-party applications like Google, LinkedIn, or Mac Contacts.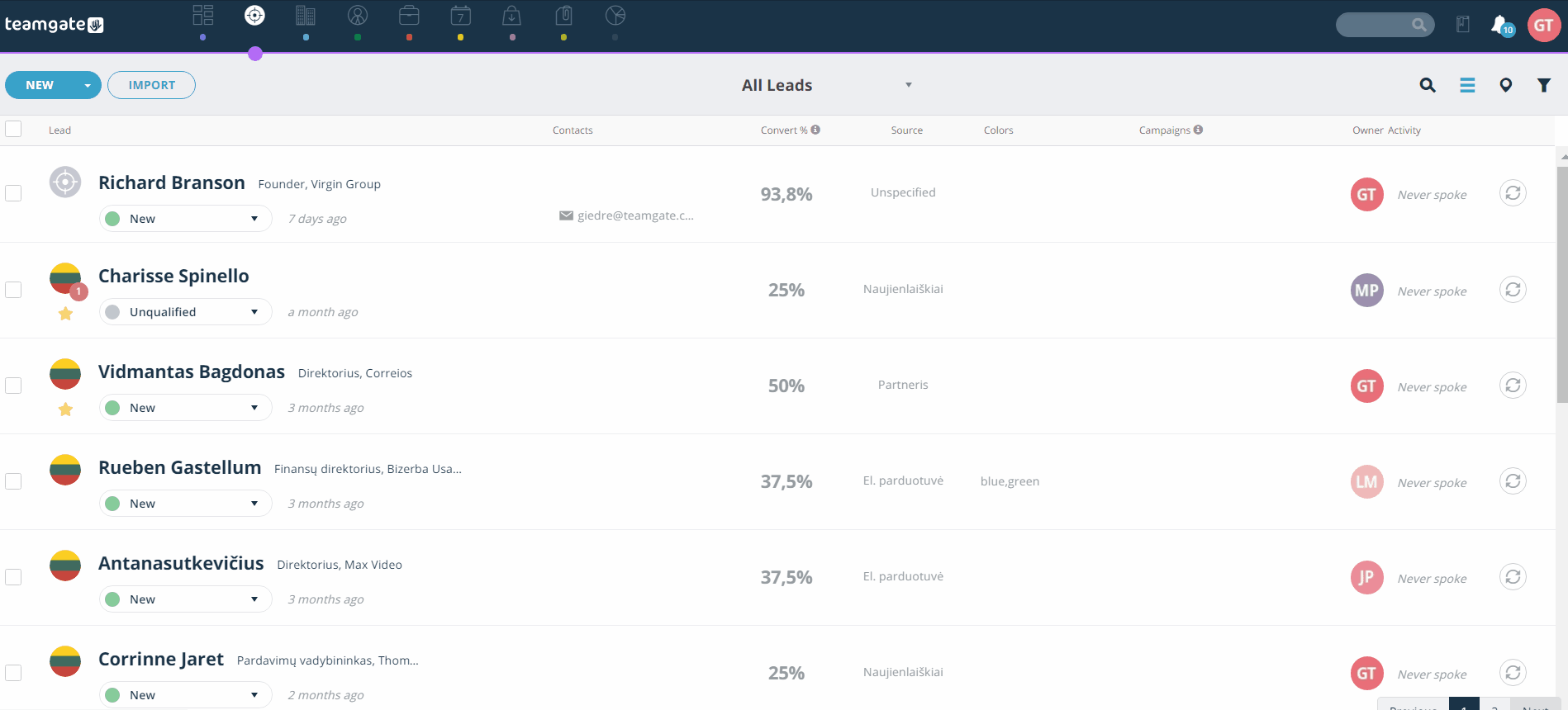 4. Add new lead manually
You can add a new Lead manually by pressing "New" in Leads section and filling in fields with required information. Keep in mind, intelligent software will warn you immediately if data you entered already exists, so you are protected from duplicate records.
Don't forget to set tags and source to your Lead, it will be very useful when filtering and searching contacts.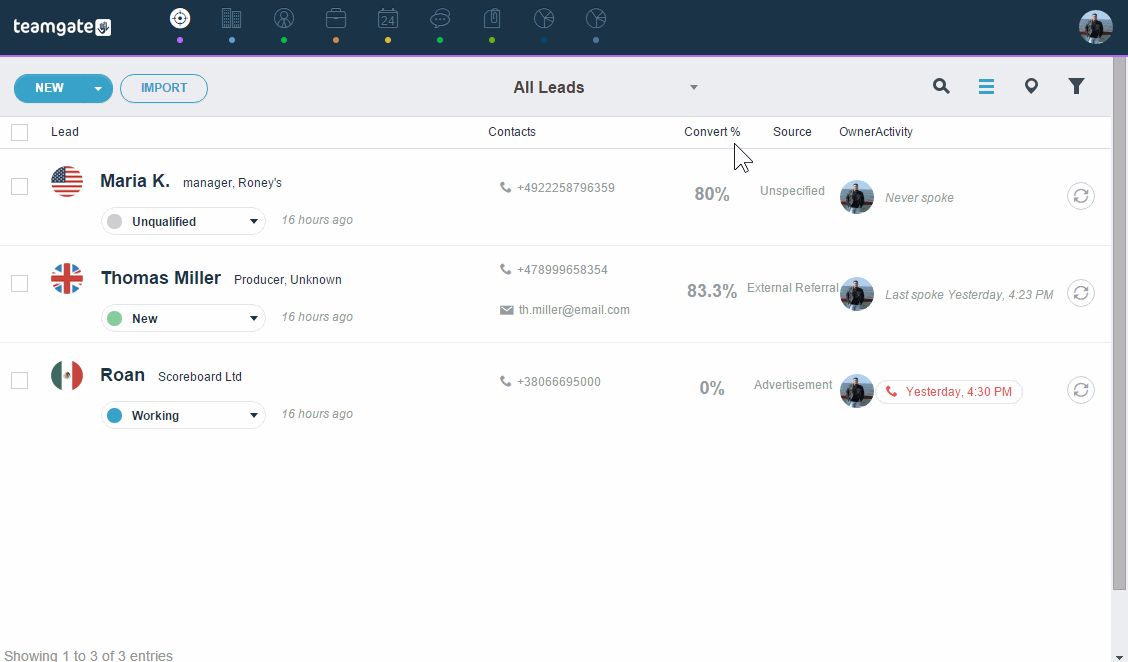 5. Filtering and Searching Leads
Your Leads list can be filtered and searched in the same way as your contacts list. You can also search your Leads list from Leads tab in Teamgate, using the universal search in the upper right-hand corner of the Teamgate web app.
Also you can filter you Leads, using filtering functionality. You can filter:
by tags;

by source;

by status;

by owner and collaborator

by city and country;

by action (no action, actionable);

by importance;

by industry;

by age;

by job title;

by MailChimp campaign and statuses;

by custom fields.
All the selection can be multiple and combined with searching.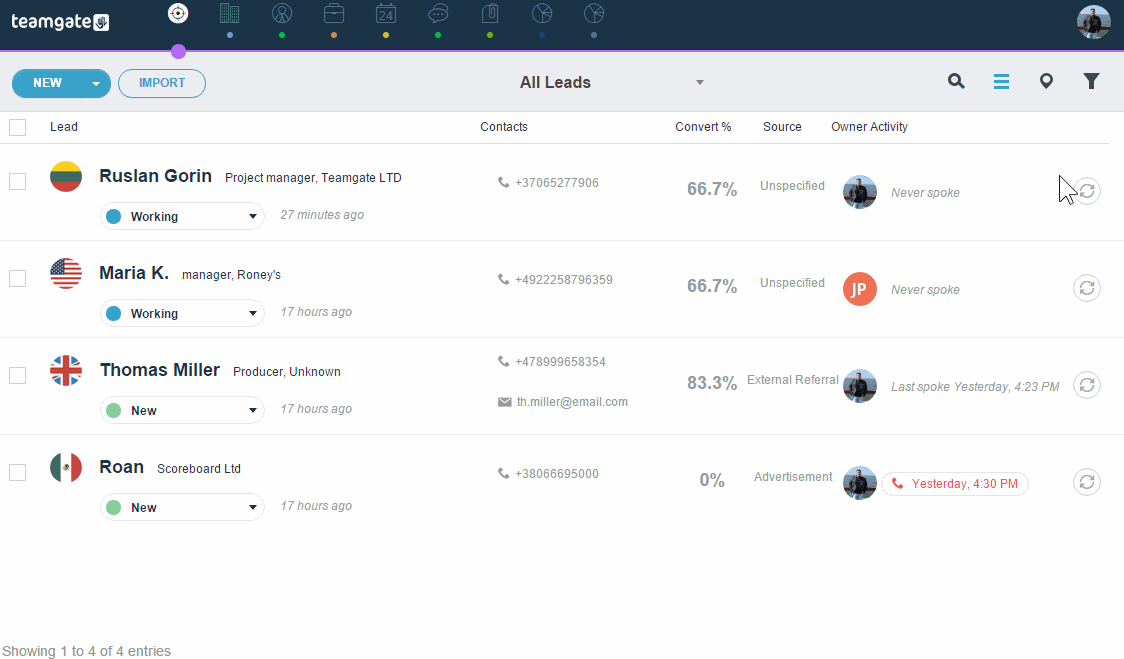 6. Converting Lead
When a Lead is qualified and ready, you can convert it to a Deal with associated contact to it. Converted all Lead's history will be transferred as well.
To convert a Lead, you have several options on how to do it with just by single click:
1) Convert the Lead to a Company and/or Person, without any action. This option means you transfer your Lead with all its information included into a Contact. And since there are no actions planned yet, you can start planning your activity later.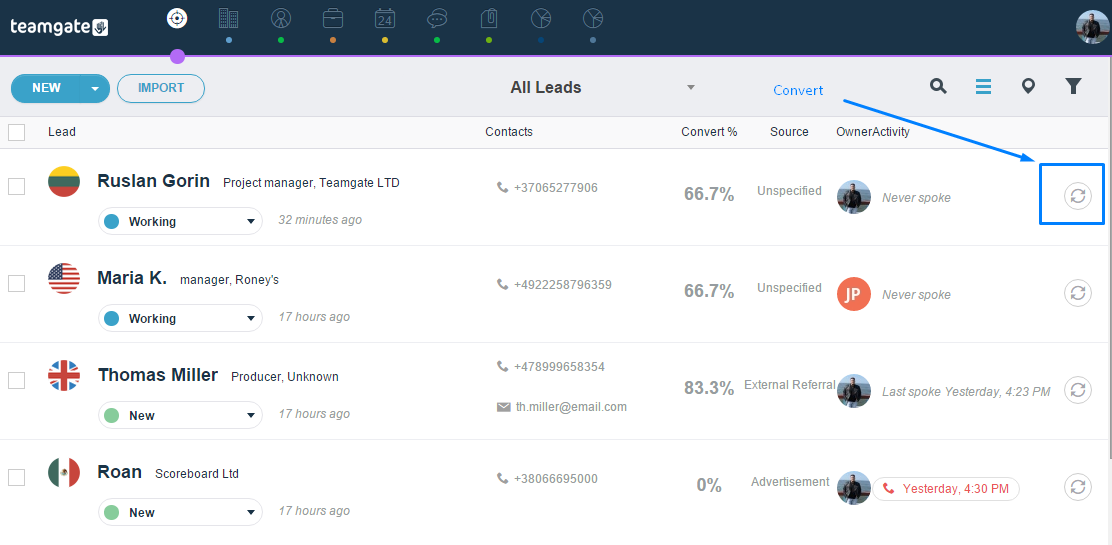 2) Convert the Lead to a Company and/or Person with activities planned. To convert a Lead, you can select the checkbox to add an optional action: task, call or another reminder due date. The new task will appear in Contact's card, in list, and in your calendar.

3) Convert a Lead to a Company and/or Person and create new Deal for this Lead. This option will create a new Deal for your converted Lead. You can add a name, Sales Pipeline and stage for this deal. The associated Contact will be seen as "Prospect" on the list.
Important: You can create a deal and a task for the converted lead at the same time, too.
Finally, assign an owner for your converted lead using the Owner drop-down menu.

Click convert and your lead is now ready to move through your sales pipeline!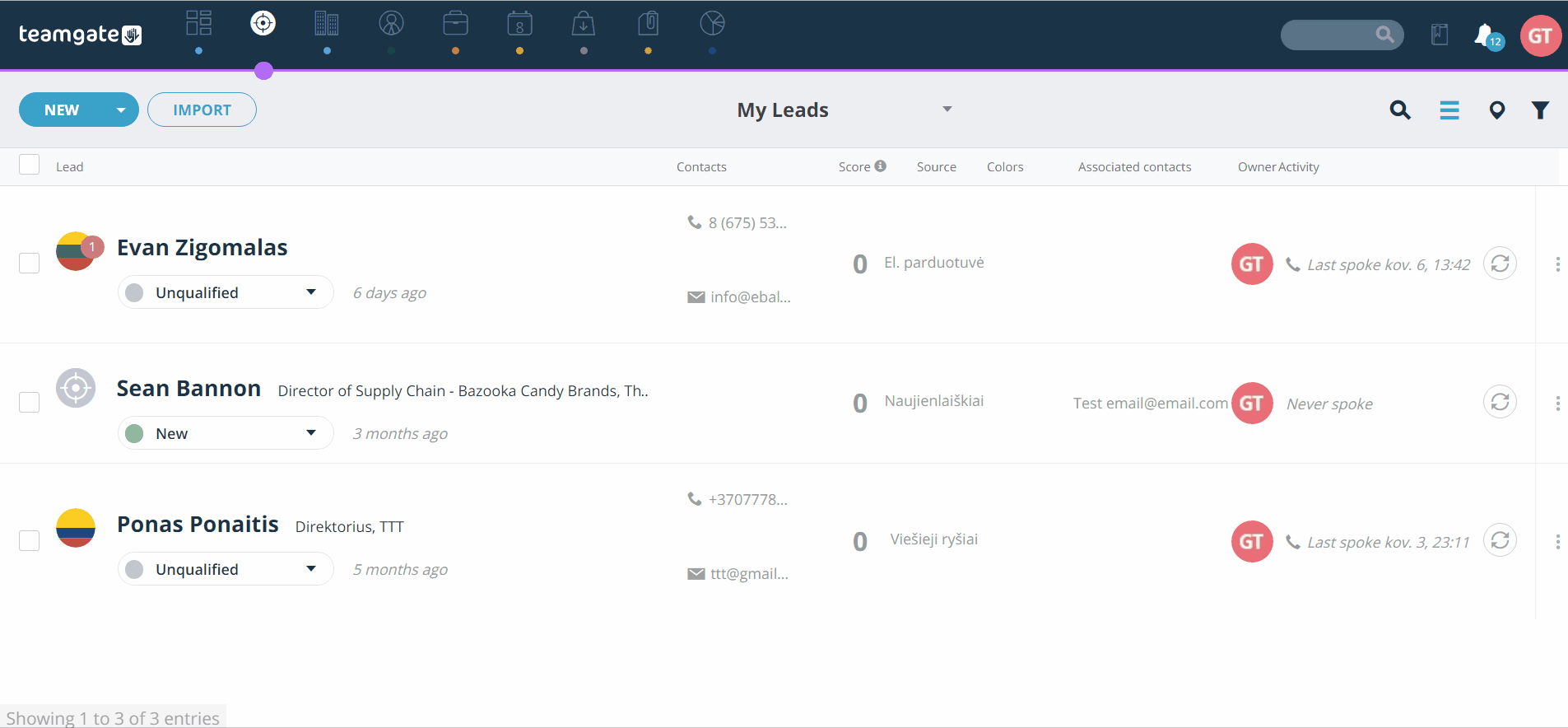 7. Manage a Lead
Manage and customize your Leads the way you manage your business. Select your CRM Lead Status: New or Unqualified or add any status you usually use for your Leads nurturing. All unqualified Leads can be recycled and processed again. Add a Tag to your lead to remember where the Lead came from or note other specific information. An option of the "Quick saving" allows you to quickly save & add new Leads.
8. Automate Leads Management
Automate leads generation to Teamgate CRM by creating contacts, subscriptions or other kind of forms within your WordPress website. Your website visitors will be able to fill up the forms you created. A new Lead, Contact or a new Deal will be created from data entered by the website visitor. By automating Lead generation process, you will never lose your potential customers. This way, you can focus more on working with the information sent to Teamgate CRM. For more information read: Generate your leads using WordPress web form
9. Teamgate LinkedIn-Shuttle
This is a simple and useful tool to easily import LinkedIn contacts directly to your Teamgate account. With one click you are able to create a new lead with the data absorbed from the LinkedIn profile – name, position, company, email address and even phone number (if available). See the article: Teamgate LinkedIn-Shuttle
10. Score your leads!
Lead scoring is a methodology used to rank prospects against a scale that indicates the perceived value each lead represents to the organization. The resulting score is used to determine which leads should be qualified in order of priority.
The value of each lead may vary, but generally, it characterizes and determines the worthiness of a lead. This helps your sales team to focus on the right leads and close more deals.