When you enable the Mailchimp integration with Teamgate CRM, you'll be able to subscribe contacts from your Teamgate contact list to one of your Mailchimp mailing lists.
Create targeted lists of contacts by using the advanced filtering & tag options in Teamgate and send them over to any of your Mailchimp lists with just one click.
In order to use the Mailchimp integration, you'll need a Mailchimp account. You can get a free account by clicking here.
Sections:
2. How to set up the Mailchimp integration?
3. How can I use Mailchimp integration?
1. What is Mailchimp?
Mailchimp is the ultimate software that will change the way you market your product on the internet. Mailchimp is a simple email marketing software (EMS) which gives you a number of easy options for designing, sending and saving templates of your emails. The number of feasible options and the easy to use interface set Mailchimp apart from other software, and this can be seen with the number of users that use this software, going well over a million users!
Mailchimp allows you to easily create newsletters of varying types and then provides simple options for sharing them on social networks such as Twitter or Facebook, making it your own personal platform for publishing your newsletter. Build a list of the people whom you want to market your products to, and save the list for use later on, and create custom templates for your products so that you do not have to rewrite emails again and again.
2. How to set up the Mailchimp integration?
It can be made with only a few steps:
2.1. First of all please create your free Mailchimp account.
2.2 Open the Teamgate Settings. You can find this by clicking on your name in the top right corner.
2.3. Click Integrations on the left side of the screen and Enable the Mailchimp integration.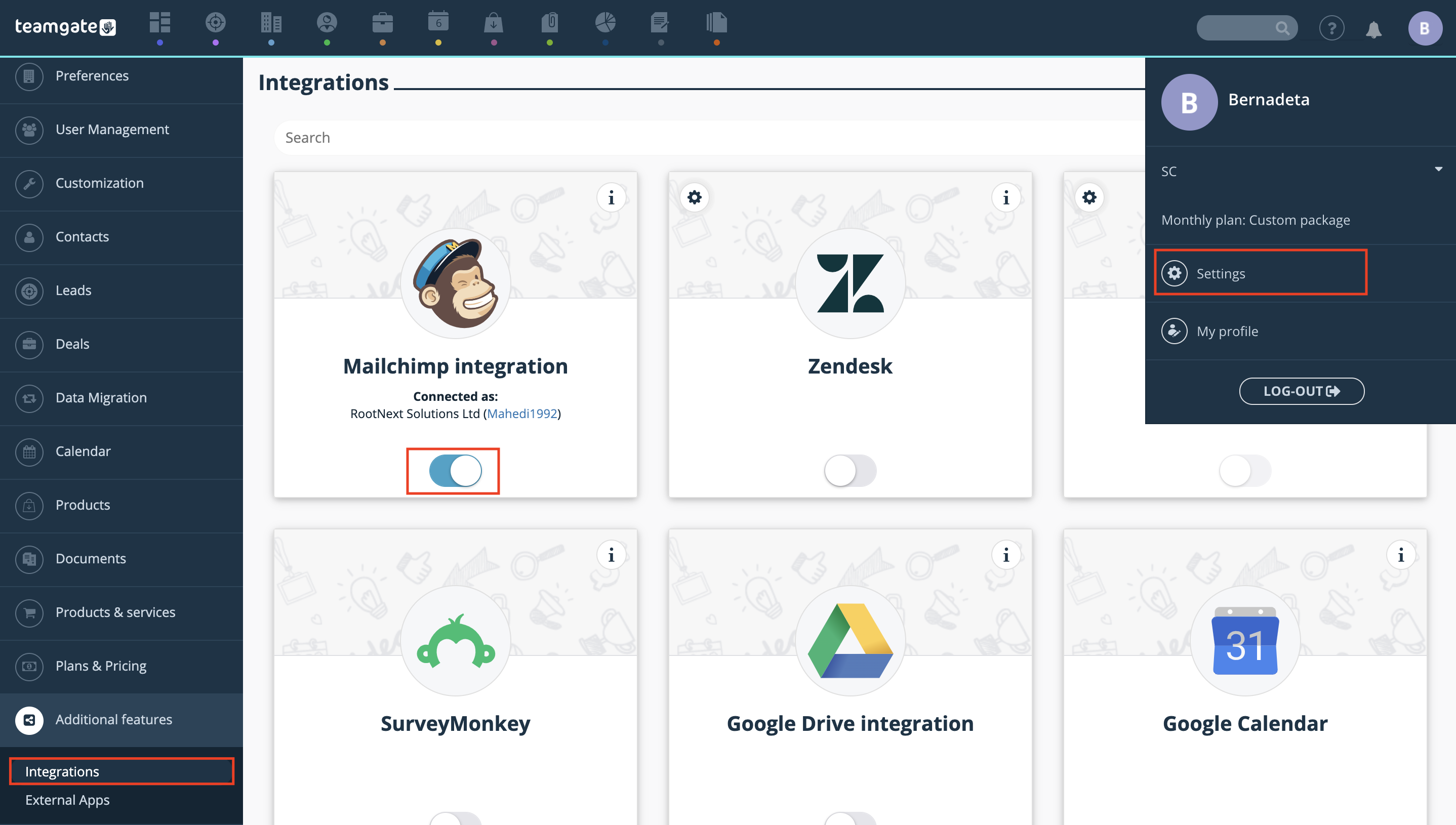 2.4. Connect Teamgate to your Mailchimp account. Enter your Mailchimp username and password and click "Log In".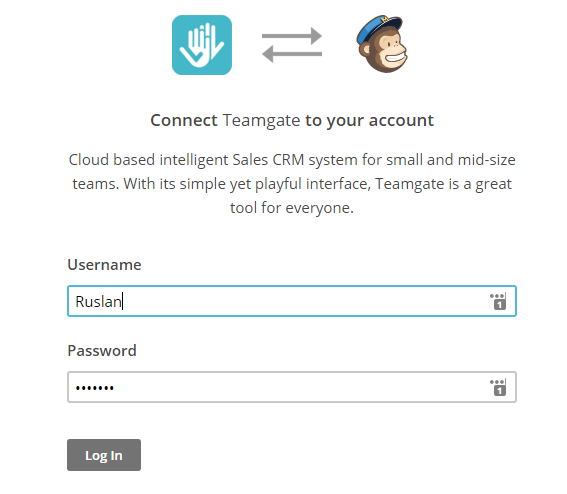 2.5. After your Mailchimp account is connected, you'll be redirected back to Teamgate and receive a notification.

2.6. Now your Mailchimp account is connected. You can always turn it off and connect another account by clicking "Off" and "On" again.
3. How can I use Mailchimp integration?
Mailchimp integration lets you send personalized, well-targeted emails to specific lists of customers from Teamgate. You can export contact information from Leads, People and Companies lists. Simply define your segment criteria in Teamgate, and click on the Mailchimp icon on top of the list to export the contacts into Mailchimp. Teamgate displays up to 100 lists from Mailchimp. Lists are ordered by their creation date. Newest list- on top.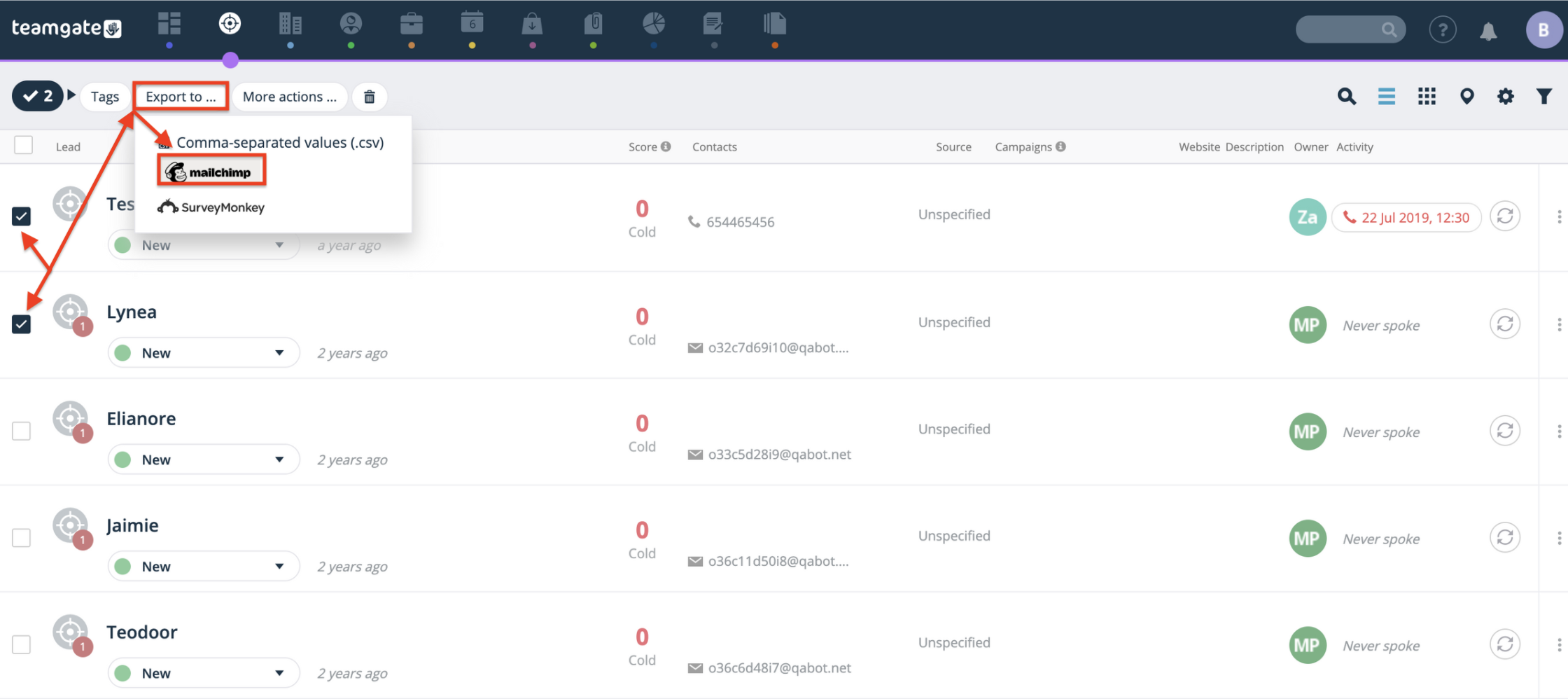 Teamgate exports the following information:
1. Lead, People name or/and Company title;
2. Lead, People name or/and Company email address;
3.1. Mark the icon "Add custom fields" and click "Export":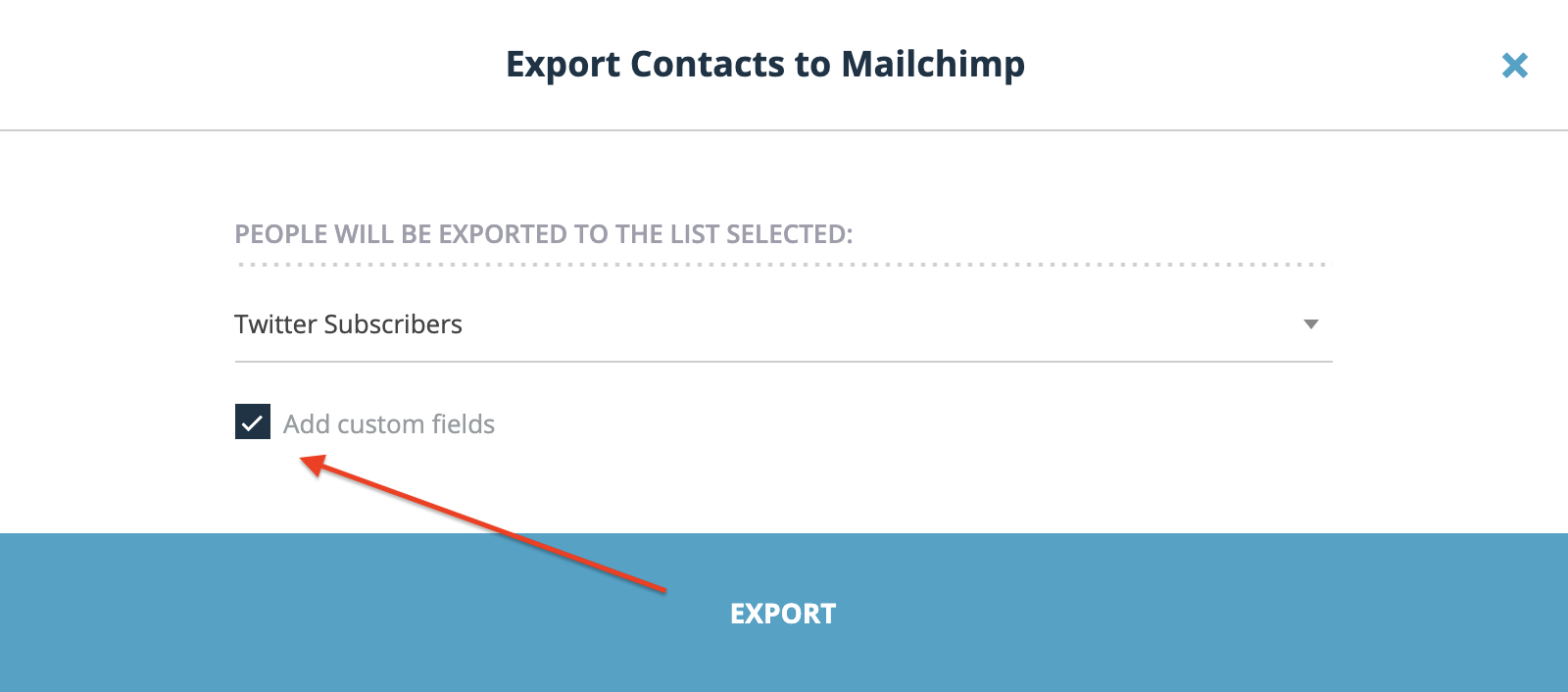 3.2. Merge custom field values in Teamgate with the fields in Mailchimp. If you need to create an additional field in Mailchimp- click "Create a new field". Also, make sure you are mapping the same type of fields (text field with a text field; number field with a number field and etc.). If you will select the same type of field twice- it will be marked with a red line and won't be merged.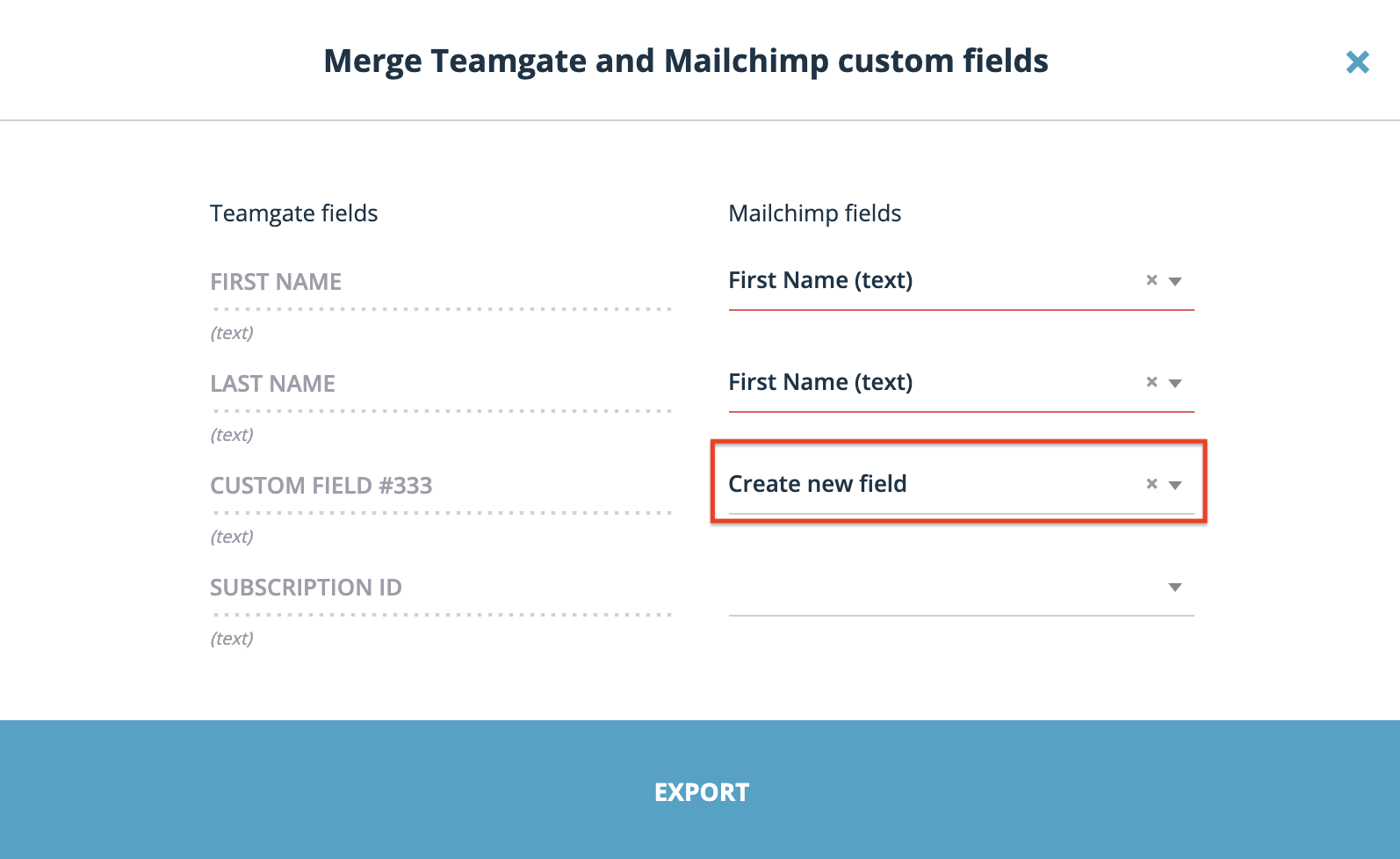 3.3. During the contact transfer to Mailchimp Teamgate allows to select not only the List but as well a Group (Group category and Group name) within the list: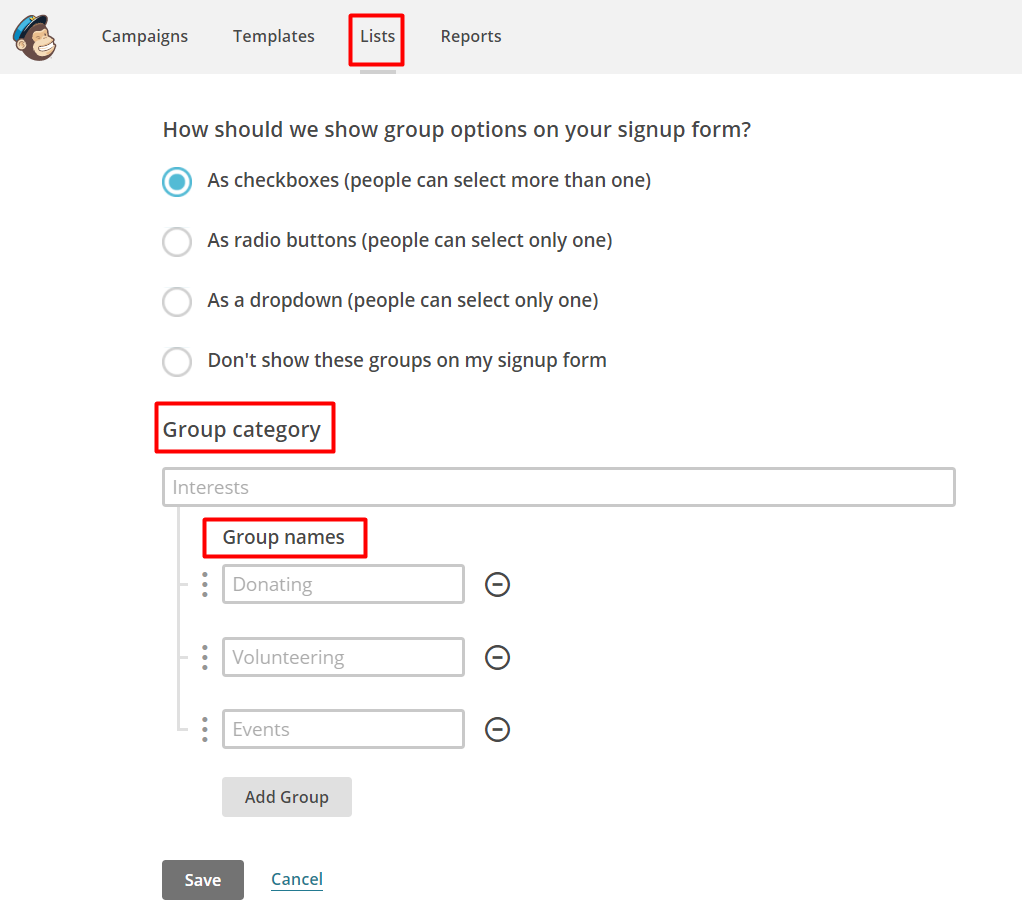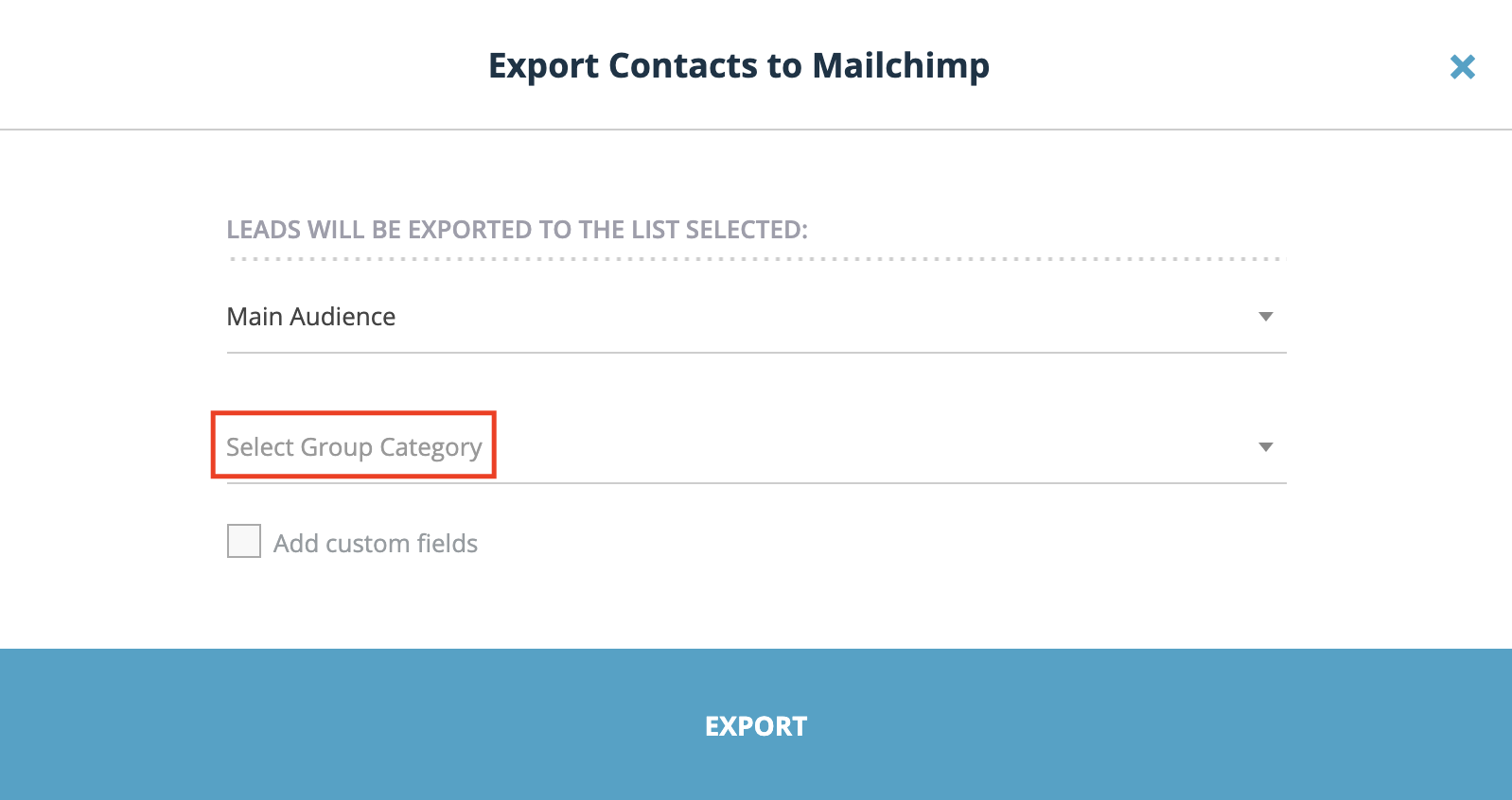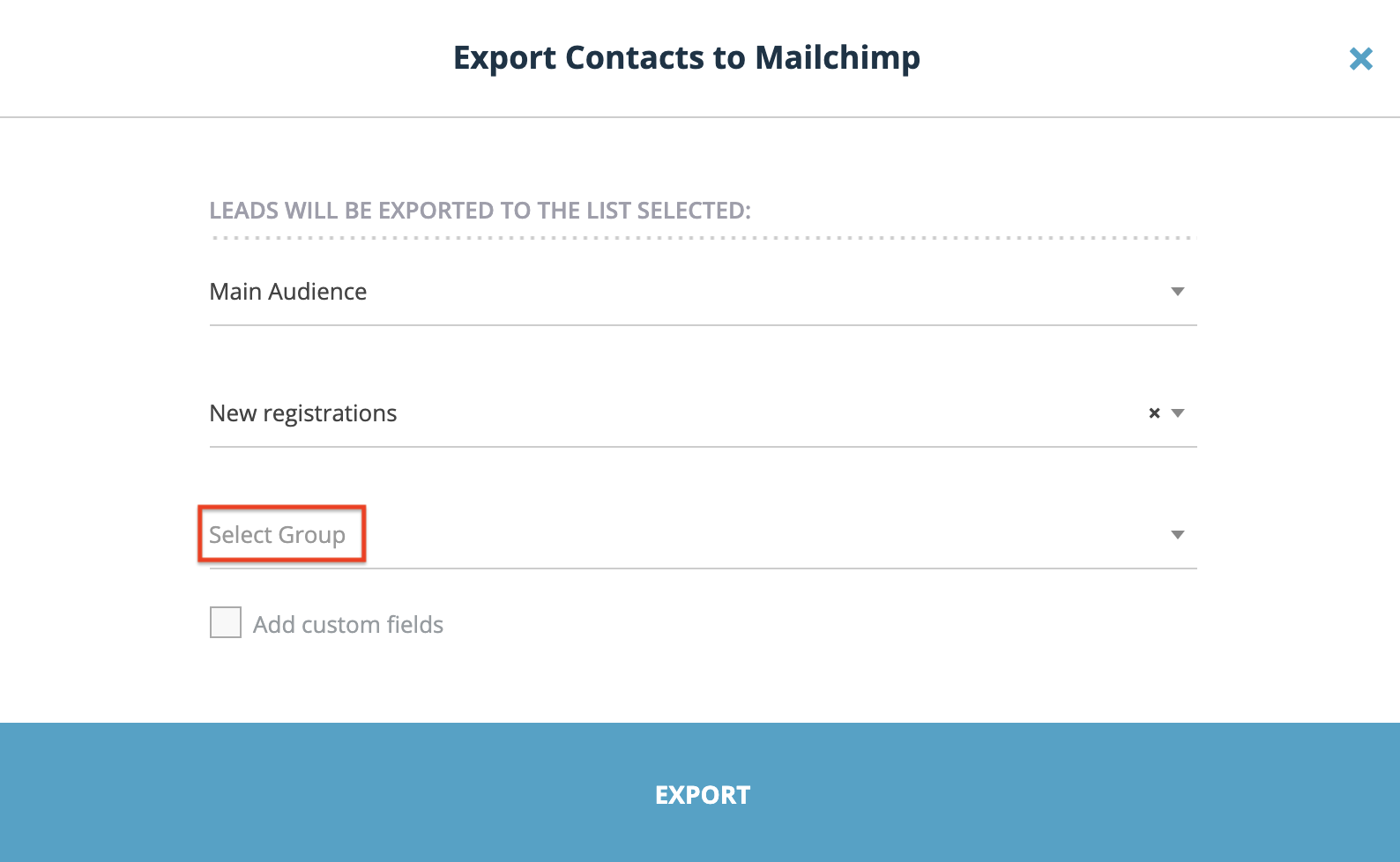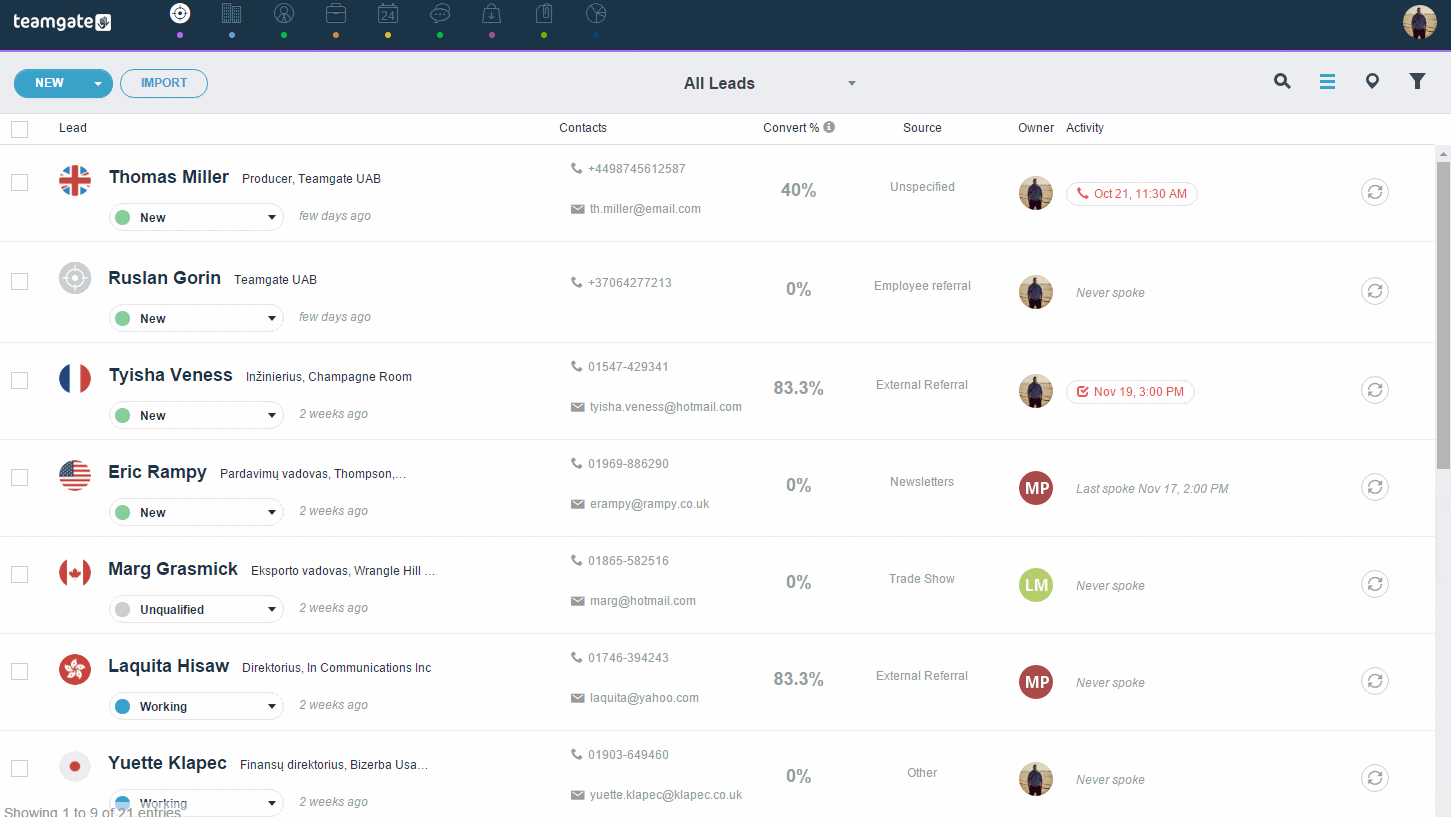 4. How to know if records were transferred successfully?
Every time you transfer your records from Teamgate to Mailchimp - you will receive the email confirmation. As well as, all your exported contacts will be assigned with a tag, which allows filtering those contacts if needed.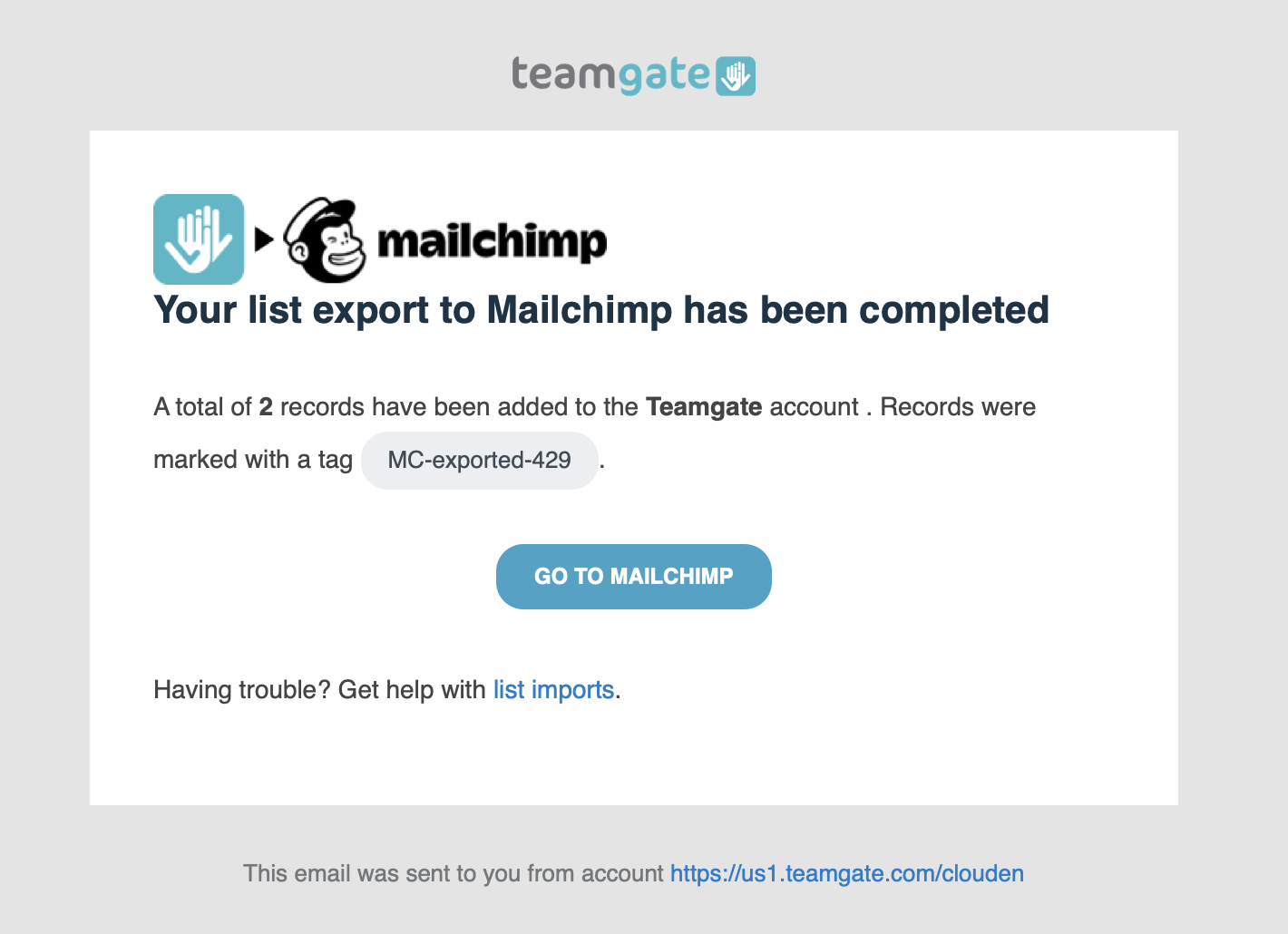 If the records won't be transferred you will find such information in the email and in Teamgate. Navigate to Settings > Data migration > Export history > by clicking on the record colored in red you will see the list of the records that weren't added to the Mailchimp list. As well as you will find the reason and these contacts will be assigned with a tag.
After correcting the email address export history list won't renew. As well as, you have to transfer the record to the Mailchimp list again.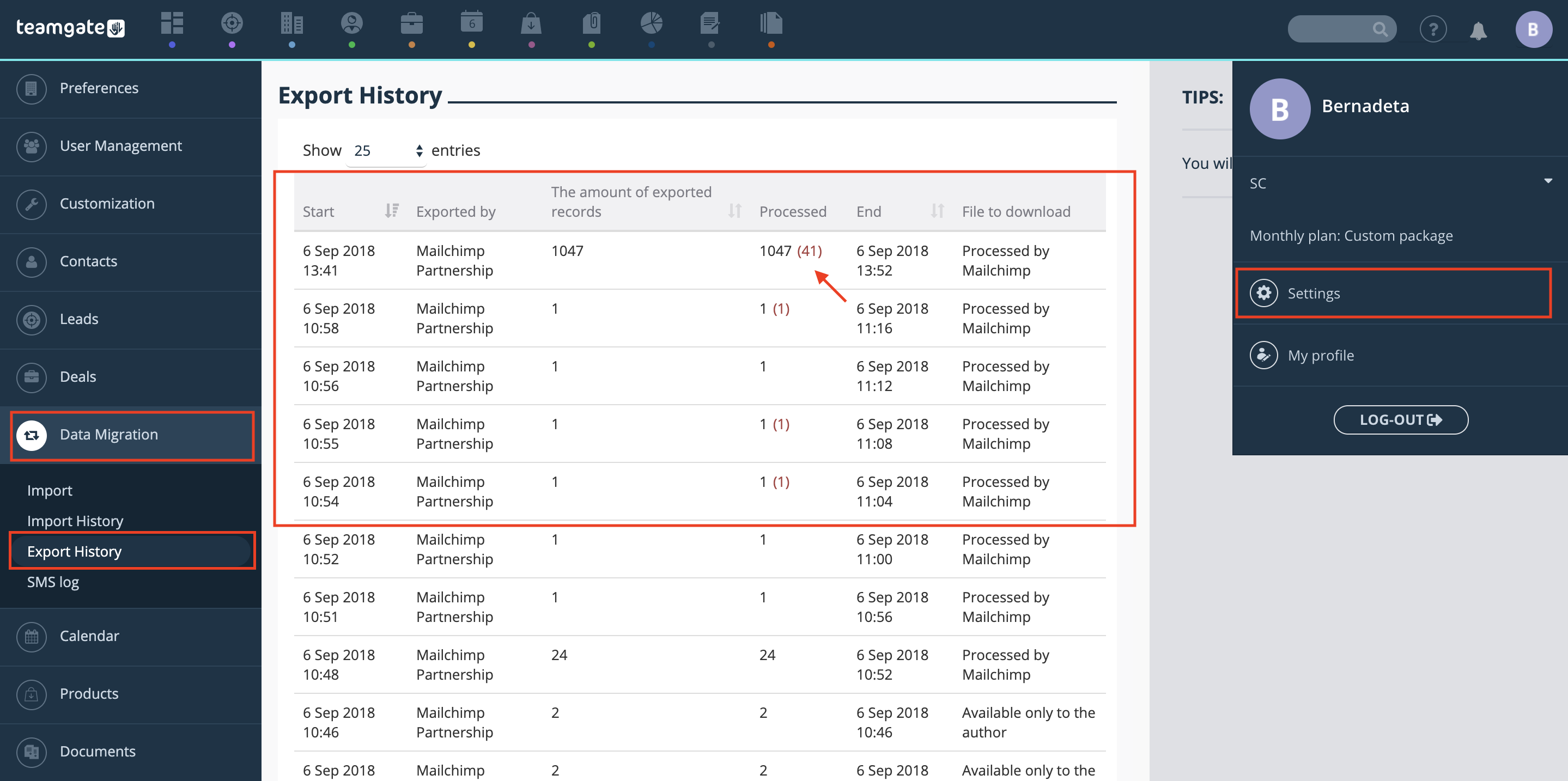 To open contact card right click on the email address and "Open link in new Tab".
5. Filtering
After your Mailchimp integration is enabled, you're able to use filtering by campaign and statuses. As an example, you can filter your customers who got your Christmas Offer-2016 and opened (clicked, bounced, unsubscribed) it.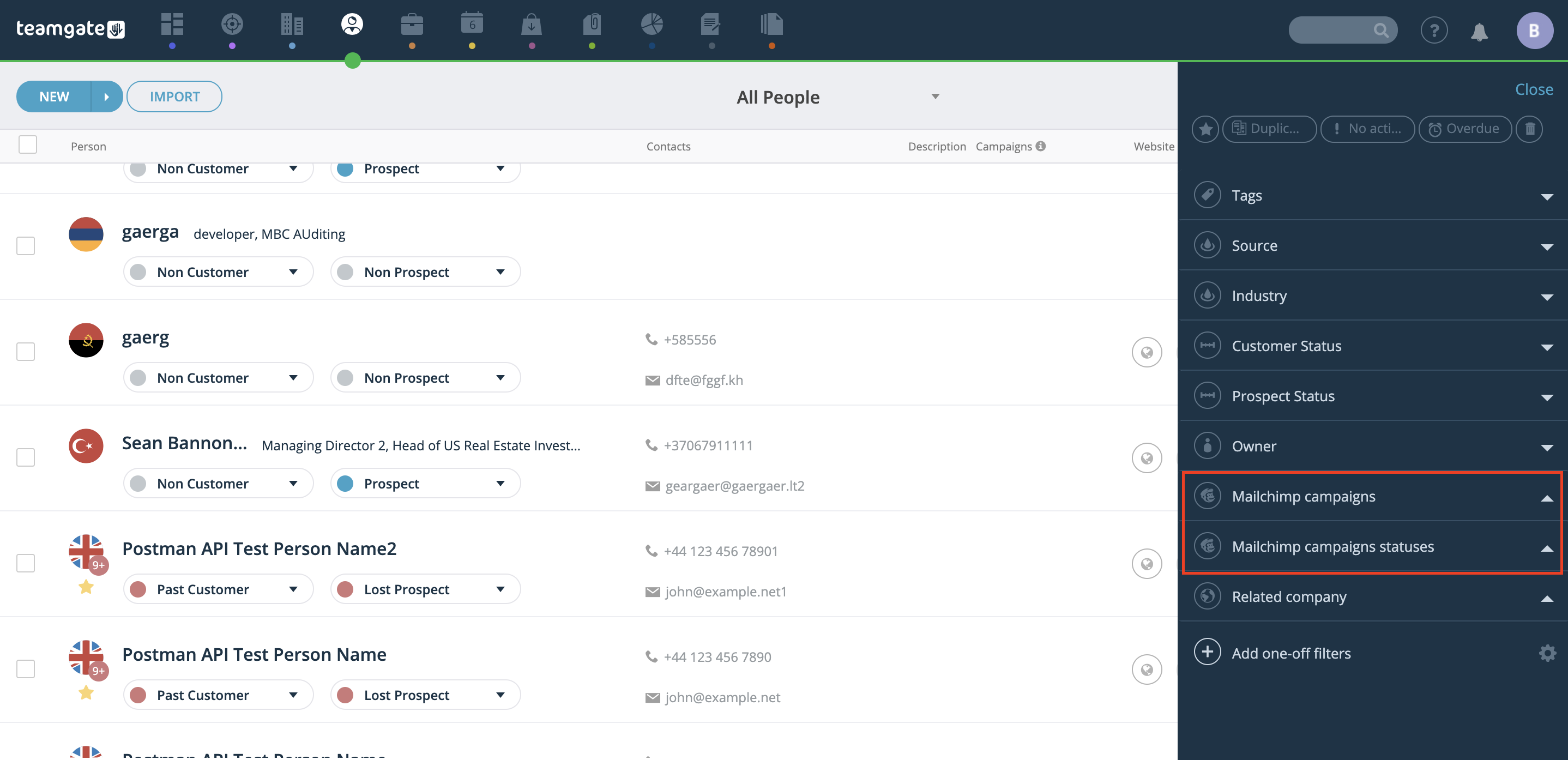 6. Campaign information
Also, you'll see the new block "Mailchimp" in the Lead, Company, People card with campaign list, dates and statuses related to your contact.
Note: Information renews every hour!