QR codes are 2-D codes which can be scanned by a smartphone. They are a type of barcode you can scan to get useful information such as internet links, contact details and so forth. QR codes are powerful hyperlinks for the real world. In Teamgate, you can get Lead or People details directly to your smartphone or tablet using QR Codes.
All you need to do is to scan the QR code from a Lead or People card, and you'll create a contact with all the details you've entered in Teamgate. Then search online, send email, or make a direct call to the contact you've scanned.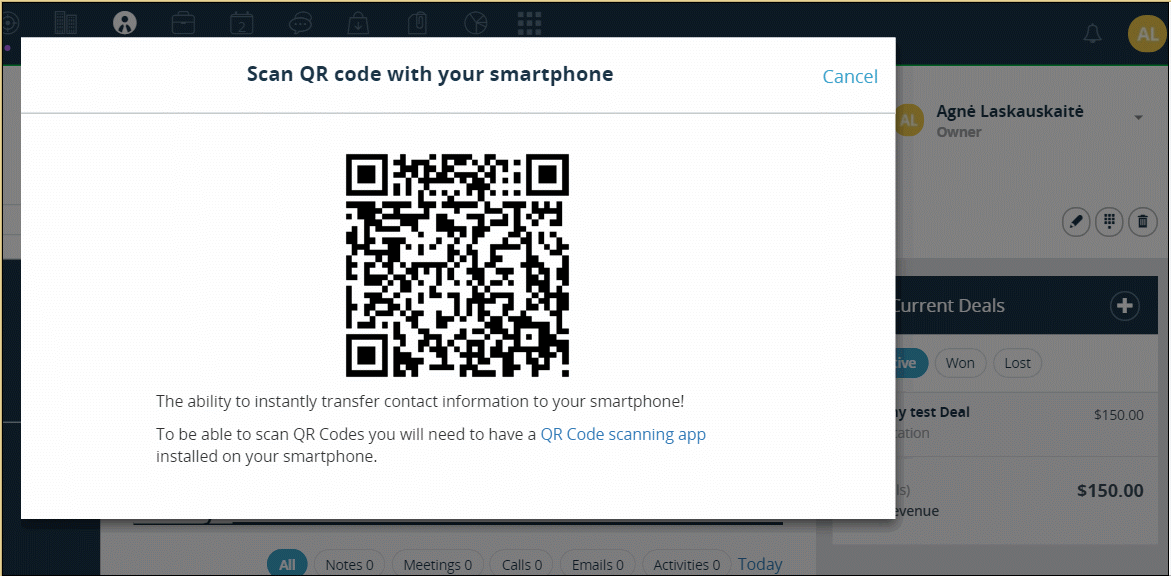 All you need to use this functionality are these steps:
Install a QR scanning app on your smartphone.

We recommend QR Code Read: https://www.scan.me/download/.

Go to your Teamgate account and open any of your Leads or People cards.

Click the QR Code generating button.

Open the QR Code scanning app on your smartphone and scan the QR Code from your monitor.

The basic information will be shown on your app, and you'll be able to perform these actions:

- Create new contact at your smartphone's phonebook

- Make a call

- Send an email

If you choose "Create a new contact," the new contact creation form will be opened on your smartphone with all fields filled.
As you can see, it is easy to make a call or save the contact to your smartphone using QR Codes. It will save a lot of time for you and your colleagues.