Newsletters are an essential part of email marketing. If you want to send a marketing newsletter to your Leads, you can use Teamgate-Mailchimp integration for mass-mailing, track your campaigns and see results of your campaign.
Mailchimp is an email marketing service provider. Many people use Mailchimp to design and distribute email marketing campaigns. This impressive product can easily be integrated into Teamgate through your Mailchimp log-in credentials. Through this, you can export any desired list of contacts from Teamgate into Mailchimp, and begin your email campaigns.
You can export your contacts directly from Leads section by marking them there.
Please follow these steps to make your Mailchimp CRM integration work:

How to set up the Mailchimp integration
Open the Teamgate Settings. You can find this by clicking on your name in the top right corner.

Click Additional features > Integrations on the left side of the screen and Enable the Mailchimp integration.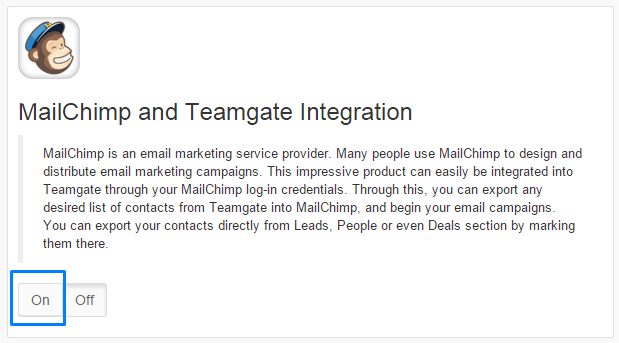 1. Connect Teamgate to your Mailchimp account. Enter your Mailchimp username and password and click "Log In".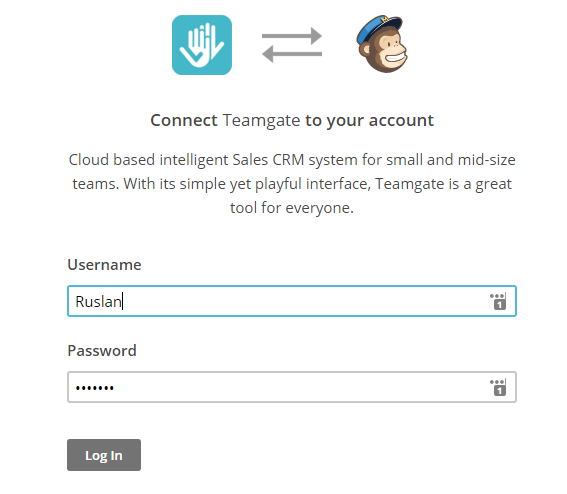 2. After your Mailchimp account is connected, you'll be redirected back to Teamgate and receive a notification.



3. Now your Mailchimp account is connected. You can always turn it off and connect another account by clicking "Off" and "On" again.
1. How can I use Mailchimp integration?
Mailchimp integration lets you send personalized, well-targeted emails to specific lists of customers from Teamgate. Simply define your segment criteria in Teamgate, and click on the Mailchimp top of the list to export the contacts into Mailchimp.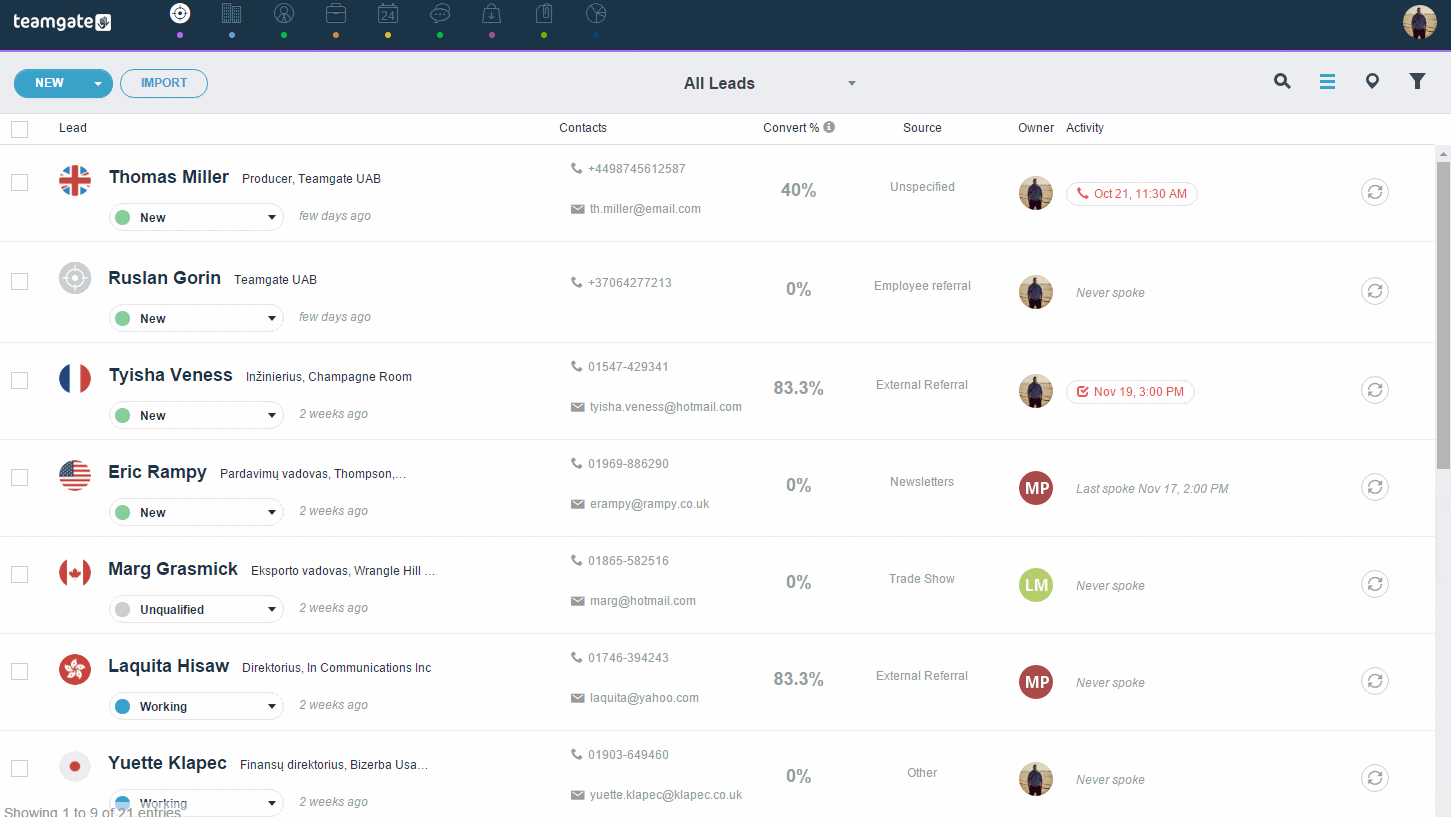 It's helpful, for example, when you want to send emails to lost prospects who are based in China and with whom you are in the middle of a high-value deal. With only a couple of clicks, you can set the criteria and export the list.
When you enable the Mailchimp integration, you'll be able to subscribe contacts from your Teamgate contact list to one of your Mailchimp mailing lists. You would be able to export every segment of your database from Teamgate to Mailchimp list.
2. Can I filter by campaign and statuses?
After your Mailchimp integration is enabled, you're able to use filtering by campaign and statuses. As an example, you can filter your customers who got your Christmas Offer-2016 and opened (clicked, bounced, unsubscribed) it.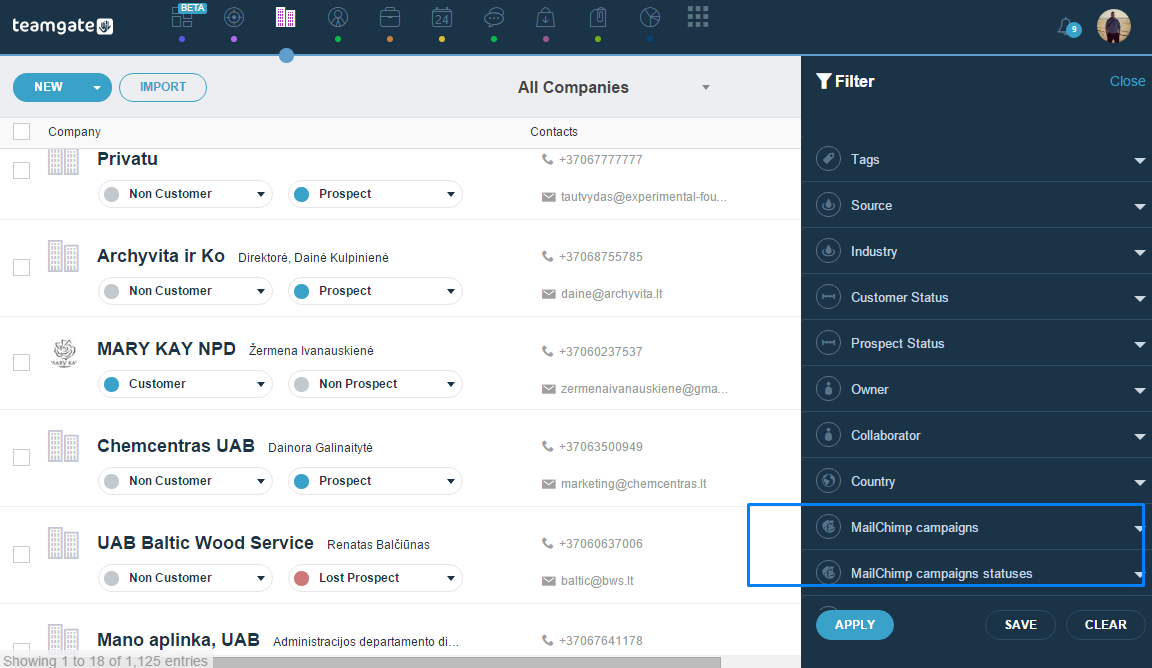 3. Where can I see information about the campaigns?
Also, you'll see the new block "Mailchimp" in the Lead, Company, People card with campaign list, dates and statuses related to your contact.
Note: information is synced every hour.