1. How are duplicates recognized?

After importing data or simply working with the Teamgate system, duplicates of leads may arise in your database.
All duplicates are identified according to the following criteria:
Identical company/person's name (identical means the same. For example if there are two leads, "Teamgate Ltd" and "Teamgate, Ltd" - they are not identical names and therefore not duplicates).

Identical phone number -Identical email address. 

Identical company code. 

Identical VAT code.   
If any of these criteria is matched, the companies/people will be identified as duplicate records and the system will advise you to take action.  
2. How to merge duplicates?
Teamgate makes duplicates merging very easy task for you. 
When you see the number of duplicates at your lead, you can simply click on it: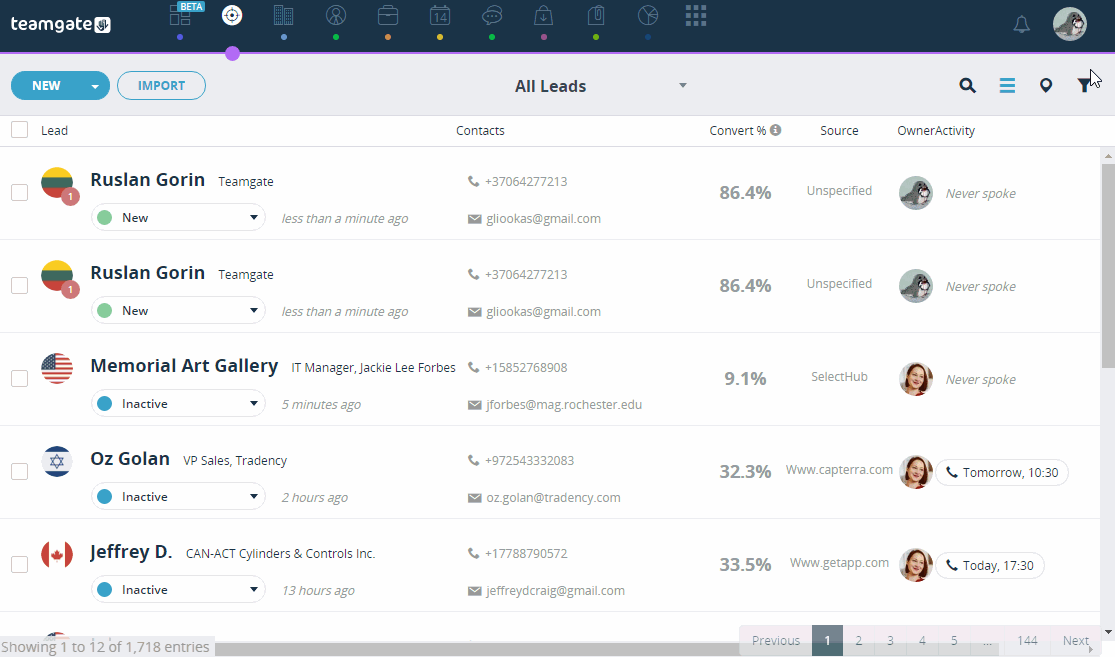 Then you have 2 options: 
1. Merge
2. Mark as not a duplicate
If you are about to merge your records, this operation will leave you with only one record, instead of 2. Also, you will see a notification that leads are merged successfully. 
-If you have values in your custom fields, only the multi-selection type fields values will be merged.
-The text fields and single option field's values will be moved and replaced.Teamgate does not check if the values in your fields are unique.
-If you have 2 addresses, as an example, after your leads are merged, you'll have 2 addresses. It's not possible to merge a Lead and a Person.