Sometimes your communication with the customer is sufficiently passive and you got the useful answers only after long months of waiting. After a few times while trying to reach the customer you are not getting the right information to leave it at the lead card as a comment. 
Teamgate offers you the really simple and easy to use tool to solve this problem. It calls "What's up". You can leave a standardized comment in seconds by using this tool.
1. How to create options to select for what's up?
Please follow these steps to add an option to "What's up":
1.1. Navigate to Teamgate Settings section.
1.2. Select "Customization" > "What's up".

1.3. Click on the "New" button to describe the situation you want to add as the option.
1.4. Save
1.5. Repeat all these steps if you want to add some more options.
2. How to use "What's up"
This is how it works:
2.1. Find your Lead in Teamgate's Leads section. You can use filtering and search functionality.
2.2. Find the "Activity" column. Click on the value next to your lead in this column. It can be next planned action or the last done action, or "Never spoke".

2.3. Select the "What's up" option and click on the button.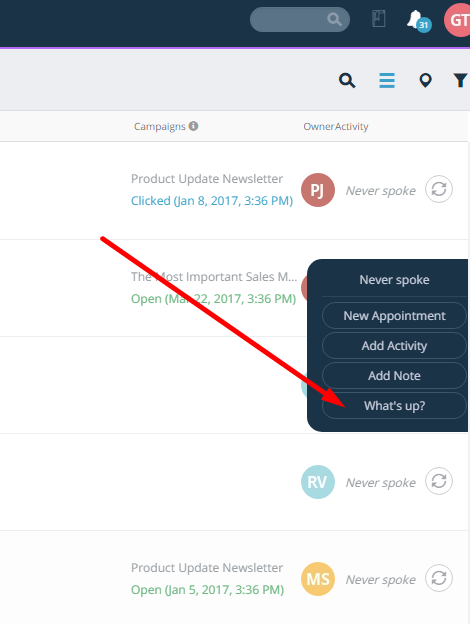 2.4. Select one of the options or create new. 
2.5. Save the selection.
Your selection will be recorded on the lead card as a comment in the communication history. You will let your colleagues know that you are working on this lead and will easily leave the updates with the current situation.