To become a customer of Teamgate CRM - all you have to do is to choose the pricing plan and add your MasterCard or Visa credit card by following these steps:
Note: Your subscription will be activated and you will be charged immediately after entering your credit card information. Also, please Remove Demo Data before subscribing. Click on the icon with your initials on the upper right corner > click Remove demo data.
1. How to subscribe?
1.1. Click on the icon with your credentials on the upper right corner > navigate to Settings > Plans and Pricing > Select Plan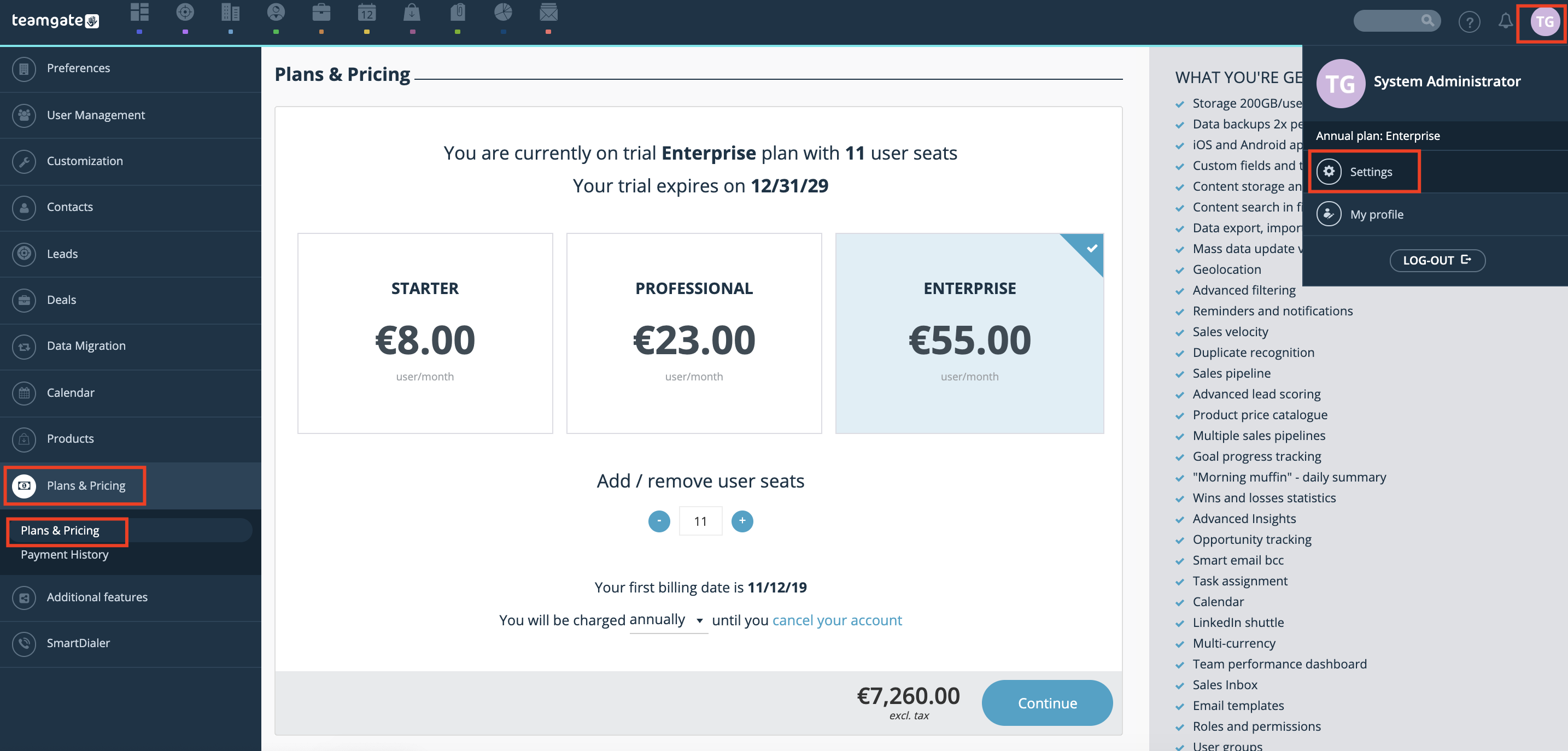 Note: The total price is tax excluded.
1.2. Additionally: Click the "Activate now" button on the notification about trial expiration.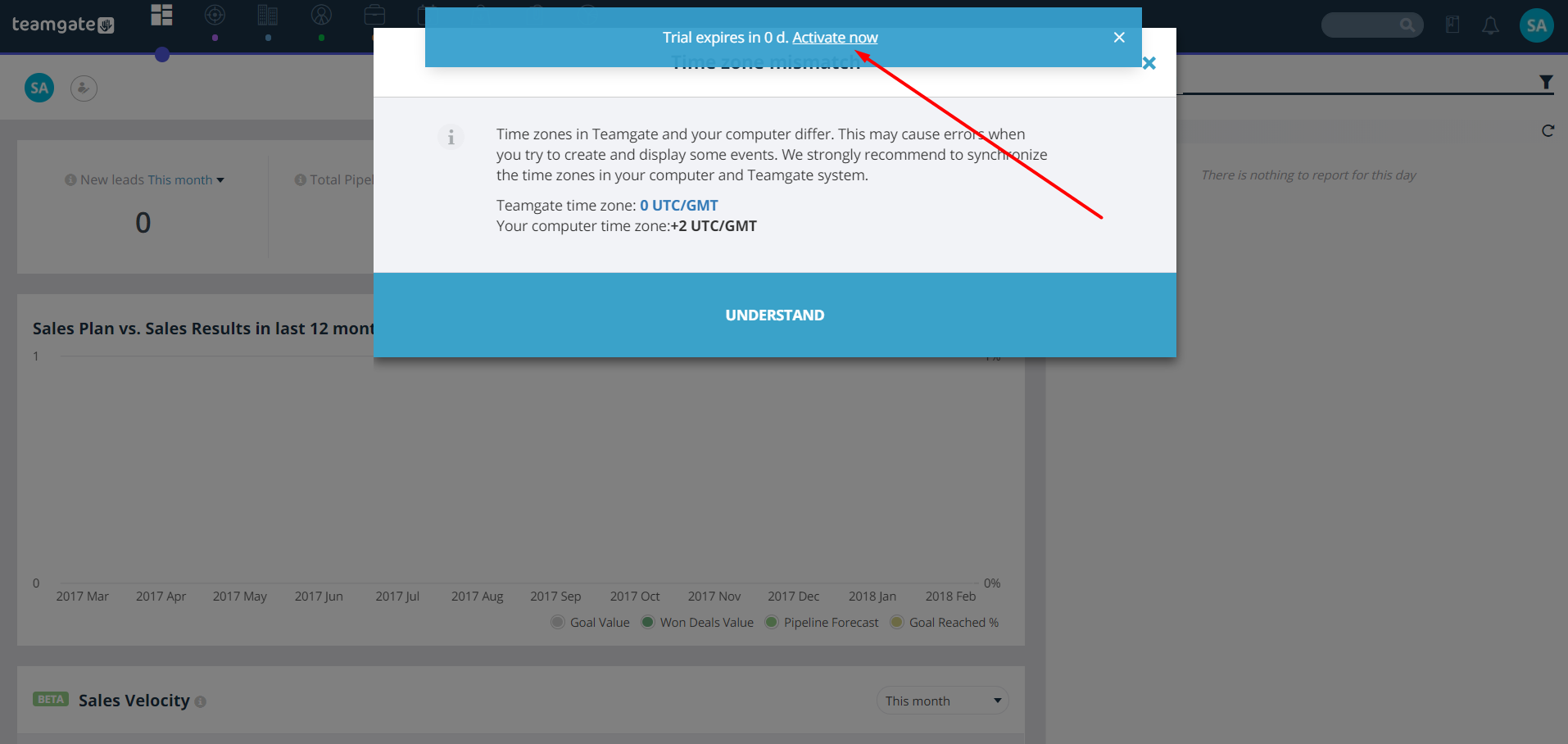 1.3. Manage users. You may purchase as many user seats as you wish. By default, you see the actual number of active users currently on your account. If you wish to subscribe with fewer users, deactivate unwanted users first.
To increase the number of seats, click +.
1.4. Select the payment method: monthly or annually from the drop-down menu.
1.5. Click Continue to enter your credit card data.
1.6. Insert your Credit Card Number.
1.7. Insert the Expiration Date of the Credit Card.
1.8. Enter the CVV of your Credit Card.
1.9. Fill the Billing information. This information will appear on the invoices issued.
1.10. Enter your VAT code, if you wish to pay without VAT:
20% VAT is always applied to all United Kingdom residents and registered businesses.

20% VAT is applied to all residents and registered businesses of the European Union unless the resident or business is a VAT taxpayer and provides the valid VAT number. Check the validation of the VAT number here: http://ec.europa.eu/taxation_customs/vies/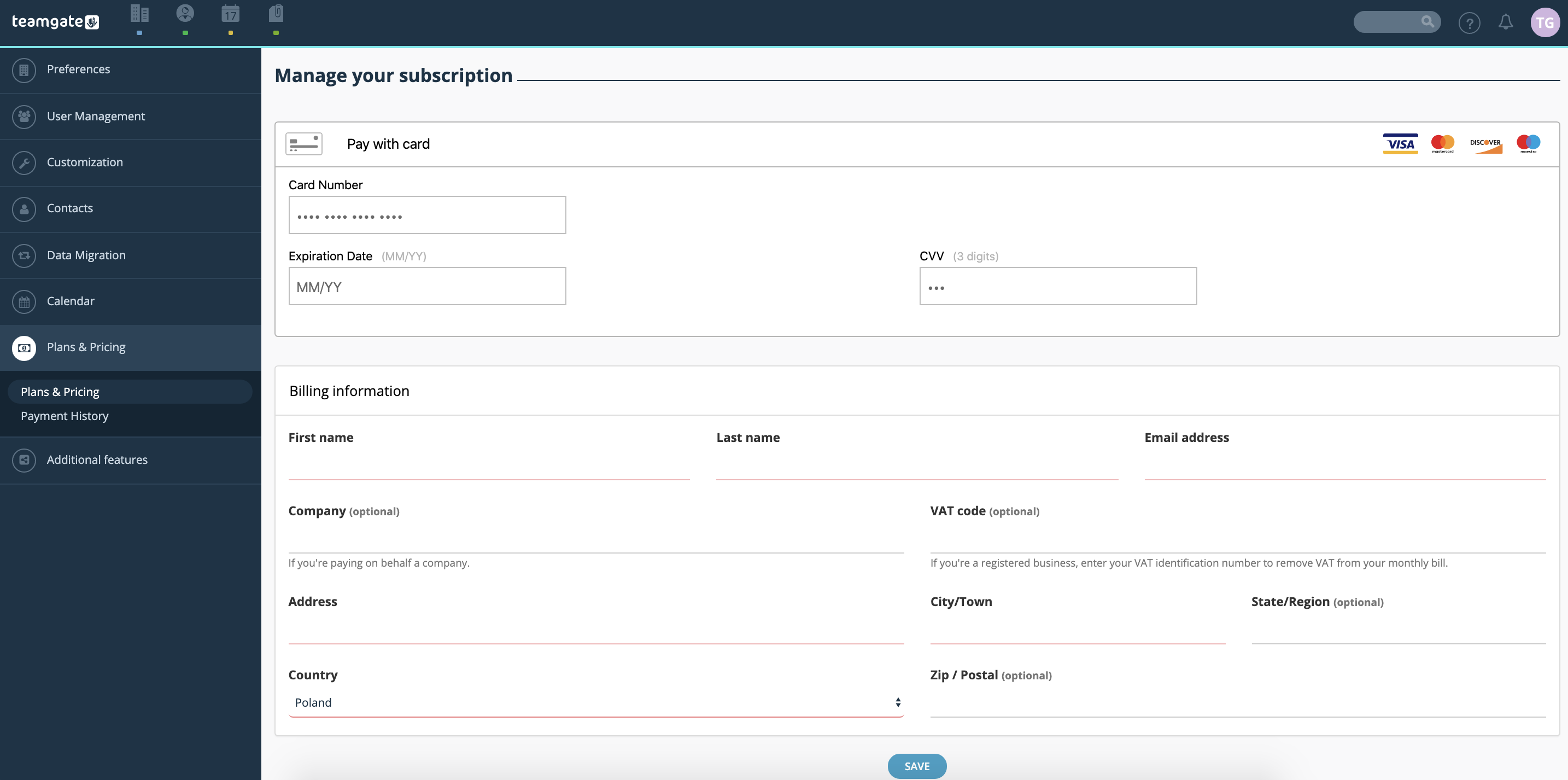 Note: It might be required to pass the authentication challenge required by the bank to confirm the transaction (SMS, phone call confirmation, etc.).
Note: Please read our Terms of service and Privacy policy.
To get more information about our pricing plans please check Teamgate site.
2. Where to find the invoices?
Invoices are not being emailed and may be downloaded as .pdf by following these steps:
2.1. Navigate to Settings > Plans and Pricing > Payments history.
For more information please visit: Where to find my invoices?